"It is a fine thing to have ability, but the ability to discover ability in others is the true test." ~
Elbert Hubbard
NOTE: I spend my Wednesdays Unplugged from appointments. It's my day to stay home, enjoy cooking and welcome our kids and grandkids for dinner in the evening. We end our meal with quotes from the Norwegian 'Quote Cup' passed on to me from my grandmother. I share a quote and a recipe here each week, and sometimes some photos of family fun. I love trying new recipes...and love getting recipes you would like to share!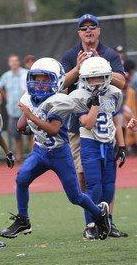 Football season has started, and our grandson had his first official tackle game last Saturday... after being the star to make a touchdown at a scrimmage during half time of a high school pre-season game a couple weeks before. It's hard to believe he is old enough to be playing tackle football, he is only 8 years old... why am I not surprised to see him running with both feet not touching the ground...?!
RECIPE OF THE WEEK
When I was working with a delightful couple here from Tennessee a few weeks ago she told me about a wonderful new soup from Panera that she had recently tasted.  She said it was one of the most delicious soups she had ever enjoyed, and shared that it was possible to find the recipe online. So I searched... found... and tried. She was right, it was delicious! I used standard chicken broth, but the recipe called for fat-free... I also shredded the chicken rather than slicing it as in the original recipe. It was a very dense soup, and added a little more broth before freezing some individual servings for later.
LEMON CHICKEN ORZO SOUP
8 cups  chicken broth
1 boneless, skinless chicken breast, about 6 ounces
1 medium carrot, peeled and cut into small pieces
1 medium celery stalk, sliced
1/4 cup finely chopped onion
1/4 cup chopped spinach
1/4 teaspoon freshly ground black pepper
1/4 teaspoon dried oregano
1 tablespoon chopped fresh basil
1 cup orzo
Juice of 1 medium lemon (about 1/4 cup)
Place all of the ingredients except the lemon juice in a 4-quart pot. Cover and bring to a boil over high heat. Reduce the heat to low, cover, and simmer, stirring occasionally, for about 30 minutes, until the vegetables are tender and the orzo is cooked al dente.
Remove the chicken breast from the soup and shred or slice into strips and return to the pot. Add the lemon juice, stirring well to mix.
Ladle the hot soup into individual bowls and serve immediately.
Sharlene Hensrud, RE/MAX Results - Email - Minneapolis Realtor who cooks