NOTE: I spend my Wednesdays Unplugged from appointments. It's my day to stay home, enjoy cooking and welcome our kids and grandkids for dinner in the evening. We end our meal with quotes from the Norwegian 'Quote Cup' passed on to me from my grandmother. I share a quote and a recipe here each week, and sometimes some photos of family fun. I love trying new recipes...and love getting recipes you would like to share! 
"Learn to pause... or nothing worthwhile will catch up to you." ~ Doug King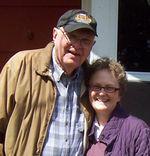 We took some time over the Memorial Day weekend to visit some special people in Wisconsin... first stop was to see my uncle who lost his wife about a month ago, then on for a nephew's graduation. It was a nice pause.
RECIPE OF THE WEEK
This week's recipe is another Breakfast Club dish, served at a recent bridal shower. I think this was the best lasagna dish I have ever had... thanks, Barb, for adapting this recipe from Giada De Laurentis!
LASAGNA ROLLS FLORENTINE
BECHAMEL SAUCE
4 tablespoons unsalted butter
3 tablespoons flour
2 cups 2% milk
1/2 teaspoon salt
1/4 teaspoon black pepper
Pinch ground nutmeg
Melt butter in a heavy saucepan over medium-low heat. Add the flour and whisk for 3 minutes. Whisk in the milk. Increase heat to medium-high. Whisk until it comes to a simmer and is thick and smooth (about 3 minutes). Whisk the salt, pepper and nutmeg into the sauce. Set aside.
FILLING
15 ounce whole milk ricotta cheese
10 ounce frozen chopped spinach (thawed and squeezed dry)
4 ounces thinly sliced prosciutto (optional)
1/2 onion, finely chopped
2 garlic cloves, minced
1 cup grated parmesan cheese (plus 2 tablespoons for topping)
2 cups shredded mozzarella cheese, divided
1 large egg, beaten to blend
1/2 teaspoon salt, plus more to salt water
1/2 teaspoon fresh ground black pepper
1 tablespoon olive oil
12 uncooked lasagna noodles
3 cups marinara sauce, divided
Saute the onion and garlic until tender. Whisk the ricotta, onion and garlic, spinach 1 cup parmesan, 1 cup mozzarella, egg, salt and pepper in a bowl to blend.
Bring a large pot of water to boil, add salt. Add 1 tablespoon olive oil and noodles to pot. Boil until al dente. Drain noodles. Arrange noodles in a single layer on a baking sheet to prevent them from sticking. Spread about 3 tablespoons of filling evenly over each noodle. Starting at one end, roll each noodle like a jelly roll.
Butter a 13 x 9 x 2 inch glass baking dish. Pour the Bechamel sauce into the bottom of the buttered dish. Lay the Lasagna rolls, seam side down, on the Bechamel sauce with touching other rolls. Spoon 2 cups marinara sauce over the lasagna rolls. Cover dish tightly with foil.
Bake in preheated 400 degree F oven until heated through and sauce bubbles, about 20 minutes. Uncover, sprinkle additional 1 cup mozzarella and 2 tablespoons parmesan over rolls. Bake about 15 minutes more. Remove, let stand 10 minutes. Meanwhile, heat remaining marinara sauce to serve alongside.
Sharlene Hensrud, RE/MAX Results - Email - HomesMSP.com