NOTE: I spend my Wednesdays Unplugged from appointments. It's my day to stay home, enjoy cooking and welcome our kids and grandkids for dinner in the evening. We end our meal with quotes from the Norwegian 'Quote Cup' passed on to me from my grandmother. I share a quote and a recipe here each week, and sometimes some photos of family fun. I love trying new recipes...and love getting recipes you would like to share! 
"The pleasantest things in the world are pleasant thoughts: and the great art of life is to have as many as possible." ~ Montaigne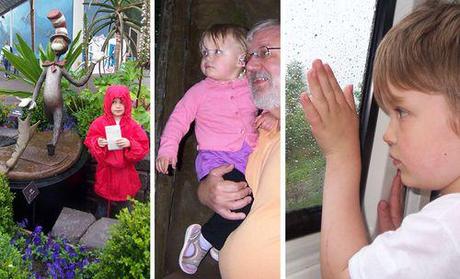 Last weekend was "Third Friday", when we have a grandkid sleepover every month. Our grandson had been waiting and waiting... he wanted to go to the zoo... and the most important part of the trip was getting a zoo map!!  It was raining Saturday morning but we still had a great time...
RECIPE OF THE WEEK
This week's recipe was one served at our annual Breakfast Club 'birthday party' breakfast last week... so delicious I don't want to lose it. It came from Lunds and Byerly's via Beth, who added prosciutto... thanks, Beth!
INDIVIDUAL EGGS MORNAY
Mornay sauce is a popular French addition to egg and vegetable dishes.
Ingredients
4 tablespoons margarine or butter, divided
1/3 cup chopped red bell pepper
1/3 cup chopped green onion, including some tops
12 eggs, beaten
1 (4 1/2 ounce) jar sliced mushrooms, drained
2 tablespoons flour
1 teaspoon chicken bouillon granules
1 1/2 cups milk
2 ounces fancy shredded Swiss cheese, (1/2 cup)
1/4 cup freshly grated Parmesan cheese
1/8 teaspoon ground nutmeg
1 1/2 cups soft bread crumbs
1/4 cup margarine or butter, melted
3 tablespoons freshly grated Parmesan cheese
2 tablespoons snipped fresh parsley
Directions
In large skillet, melt 2 tablespoons margarine; saute red pepper and green onion until onions are crisp-tender. Stir in eggs; cook over medium heat until eggs are slightly firm. Stir in mushrooms; set aside. Melt remaining 2 tablespoons margarine in small saucepan; blend in flour and chicken bouillon. Gradually stir in milk. Cook over medium heat, stirring constantly, until mixture comes to a boil; boil and stir 1 minute. Stir in cheese and nutmeg until smooth. Fold sauce into scrambled eggs; spoon into 6 greased (10 ounce) custard cups. Combine bread crumbs, 1/4 cup melted margarine, 3 tablespoons Parmesan cheese and parsley; sprinkle over eggs. Refrigerate, covered several hours or overnight. Bake in a preheated 350 degree oven until topping is golden brown (30-35 minutes). Makes six servings.
Tips:
- Three (8 ounce) cartons Egg Beaters, thawed, and skim milk may be substituted for eggs and milk.
- May be spooned into a 7x11 inch greased glass baking dish. Sprinkle topping ingredients evenly over eggs. Bake as above.
Sharlene Hensrud, RE/MAX Results - Email - HomesMSP.com