"You can discover more about a person in an hour of play than in a year of conversation." ~ Plato
 NOTE: I spend my Wednesdays Unplugged from appointments. It's my day to stay home, enjoy cooking and welcome our kids and grandkids for dinner in the evening. We end our meal with quotes from the Norwegian 'Quote Cup' passed on to me from my grandmother. I share a quote and a recipe here each week, and sometimes some photos of family fun. I love trying new recipes...and love getting recipes you would like to share!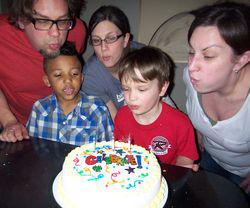 Last Wednesdsay was the last of our three-birthday run and we celebrated with an ice cream cake.
Bakesale Betty's Fried Chicken Sandwich
again took center stage... has been a favaorite birthday request since I picked up the recipe in the San Francisco Chronicle when we were there in 2007. It's the special coleslaw topping the sandwich that really makes it stand out. It feels anticlimactic that spring has arrived... our record-breaking March temperatures and the early switch to daylight savings time make it feel like it has already been here awhile!
RECIPE OF THE WEEK
I made this hot dip from Southern Living last week in honor of our son's birthday. It was the first time I had made it but it won't be the last... it was really good!!  It would be great for a get-together making a meal of hearty appetizers.
HOT SAUSAGE, BEAN and SPINACH DIP
1 sweet onion, diced

1 red bell pepper, diced
1 pound ground hot pork sausage
2 garlic cloves, minced
1 teaspoon chopped fresh thyme
1/2 cup dry white wine
8 ounce package cream cheese, softened
6 ounce package fresh baby spinach, coarsely chopped
1/4 teaspoon salt
15 ounce can pinto beans, drained and rinsed
1/2 cup shredded Parmesan cheese
Serve with: corn chip scoops, red bell pepper strips, pretzel rods
 Preheat oven to 375 degrees. Cook diced onion, red pepper and pork in a large skillet over medium-high heat, stirring often, 8-10 minutes or until meat crumbles and is no longer pink. Drain. Stir in garlic and thyme; cook 1 minute. Stir in wine; cook 2 minutes or until liquid has almost completely evaporated.
Add cream cheese and cook, stirring constantly, 2 minutes or until cream cheese is melted. Stir in spinach and salt; cook, stirring constantly, 2 minutes or until spinach is wilted. Gently stir in beans.
Pour mixture into a 2-quart baking dish and sprinkle with Parmesan cheese.
Bake at 375 degrees F for 18-20 minutes or until golden brown. Serve with corn chip scoops, bell pepper strips and pretzel rods.
Sharlene Hensrud, RE/MAX Results - Email - Minneapolis Realtor Who Cooks