"Today you are You, that is truer than true. There is no one alive who is Youer than You." ~  Dr. Seus
NOTE: I spend my Wednesdays Unplugged from appointments. It's my day to stay home, enjoy cooking and welcome our kids and grandkids for dinner in the evening. We end our meal with quotes from the Norwegian 'Quote Cup' passed on to me from my grandmother. I share a quote and a recipe here each week, and sometimes some photos of family fun. I love trying new recipes...and love getting recipes you would like to share!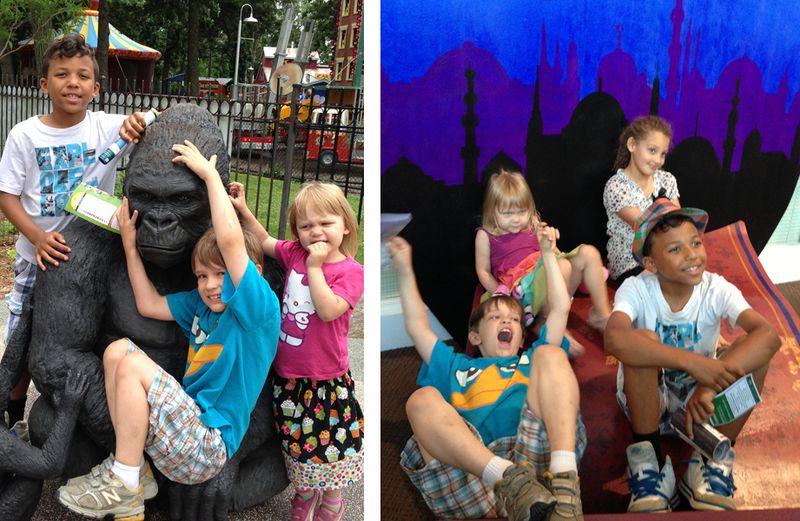 Our daughter-in-law went to the national ALA convention last week and we had their two kids for a few days while she was gone... added another grandson to have a sleepover on Thursday night and have a big day together on Friday... went to the Como Zoo, then to see the Aladdin musical at Stages Theatre Company that evening... I love how each kid's unique personality shines through!
RECIPE OF THE WEEK
Nothing says summer to me like fresh-squeezed lemonade. I posted this recipe last year but got asked for the recipe enough times that I think it's worth a repeat post. The key to great homemade lemonade is creating a simple syrup by heating the sugar in water until it is dissolved... this keeps the sugar evenly dispersed rather than sinking to the bottom. Adjust the amount of sugar depending on your taste and the sweetness of the lemons... or add a little more lemon juice if it's too sweet. For basic lemonade simply omit the strawberries and adjust the amount of water to taste. Warning... this is delicious and can disappear quickly, you may want to double the recipe!
HOMEMADE STRAWBERRY LEMONADE
1 cup sugar

1 cup water
1 cup fresh lemon juice (4-8)
1 pound fresh strawberries
4-6 cups cold water
Make a simple syrup by heating the 1 cup sugar and 1 cup water over medium heat, swirling occasionally, until the sugar is completely dissolved. Let cool.
Squeeze lemons to make 1 cup lemon juice, the number of lemons needed will vary depending on size and juiciness. Note: Meyer lemons are sweeter than standard lemons so if you use this variety you may need less sugar syrup.
Puree strawberries in a blender or food processor with 1/2 cup water. Strain to remove seeds if desired.
Combine strawberry puree, lemon juice and simple sugar syrup in a large pitcher. Add 4-6 cups cold water, amount will vary according to personal taste for consistency and sweet/tart balance.
Serve over ice.
Sharlene Hensrud, RE/MAX Results - Email - Minneapolis Realtor who cooks