NOTE: I spend my Wednesdays Unplugged from appointments. It's my day to stay home, enjoy cooking and welcome our kids and grandkids for dinner in the evening. We end our meal with quotes from the Norwegian 'Quote Cup' passed on to me from my grandmother. I share a quote and a recipe here each week, and sometimes some photos of family fun. I love trying new recipes...and love getting recipes you would like to share!
"If I were given the opportunity to present a gift to the next generation, it would be the ability for each individual to learn to laugh at himself." ~ Charles M. Schulz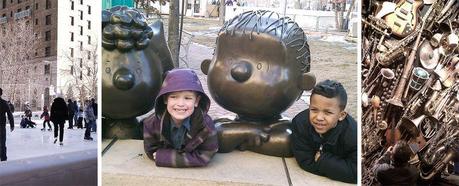 We were at Landmark Center last Sunday for a Minnesota Boychoir concert and a peek at the amazing instrument tower sculpture in the Schubert Club museum... also got to smile at the many Peanuts sculptures gracing St. Paul city streets... ice skaters were enjoying skating with no need for the warming house. It was 50 degrees yesterday... the grass was getting green and the birds were singing, felt like spring... and I found myself wishing for a blizzard. After all, it is winter in Minnesota!
RECIPE OF THE WEEK
Last week I felt like a hearty soup and decided to try chicken noodle as most members of my family aren't soup fans but they like basic chicken noodle, especially with lots of chicken. I simmered a chicken with bones in purchased chicken broth for deliciously tender chicken and a richly flavored chicken stock then added things my family liked until the consistency and taste seemed right. Everyone agreed the resulting soup was wonderful!
HOMEMADE CHICKEN NOODLE SOUP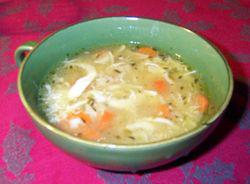 1 broiler/fryer chicken (about 3+ pounds, either whole or cut up with bones)
12 cups chicken broth
1 large bunch green top carrots, peeled and sliced into rounds
about 2 cups dried egg noodles
1 small yellow onion, finely chopped
1 large garlic clove, minced
1 heaping teaspoon dried thyme
1/2 teaspoon pepper
1/4+ cup chopped fresh Italian parsley (tops of one bunch)
Place chicken in large Dutch oven, pour in chicken broth, cover and bring to a boil over high heat. Turn heat to low and simmer for 2-3 hours, until chicken is falling-apart tender. Remove chicken from broth and set aside to cool. Strain broth.
Cook onion and garlic in a little butter in the Dutch oven, then add strained broth, carrots, thyme and pepper. Simmer about 30 minutes.
Meanwhile, remove and discard chicken skin, pick chicken from bones and break into bite-size pieces. After pot has simmered about 30 minutes add chicken, noodles and parsley to the broth. Simmer about another 30 minutes until carrots are tender. Add salt and pepper to taste and serve.
Sharlene Hensrud, RE/MAX Results - Email - HomesMSP.com