NOTE: I spend my Wednesdays Unplugged from appointments. It's my day to stay home, enjoy cooking and welcome our kids and grandkids for dinner in the evening. We end our meal with quotes from the Norwegian 'Quote Cup' passed on to me from my grandmother. I share a quote and a recipe here each week, and sometimes some photos of family fun. I love trying new recipes...and love getting recipes you would like to share! 
"You just can't beat the person who never gives up." ~ Babe Ruth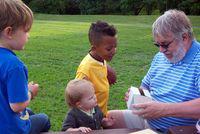 Tonight our family is going to the Twins game... hopefully the rain stops by then! Monday was my husband's birthday and we celebrated with a picnic in the park while watching our granddaughter's softball game.
RECIPE OF THE WEEK
We made this week's salmon recipe last Wednesday... marinated the salmon most of the day and it was deliciously juicy and flavorful, even withouth any salsa! It cooked very quickly, shorter time than called for in the recipe. I got the marinade from allrecipes.com and the salsa from Betty Crocker. The salsa/relish recipe calls for mint but we left it out because of allergies... was also great without it.
GRILLED MARINATED SALMON with MANGO SALSA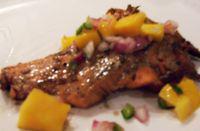 1 1/2 pound salmon fillet
Lemon pepper to taste
Garlic powder to taste
Salt to taste
1/3 cup soy sauce
1/3 cup brown sugar
1/3 cup water
1/4 cup vegetable oil
Season salmon fillets with lemon pepper, garlic powder and salt. Stir together soy sauce, brown sugar, water and vegetable oil until sugar is dissolved. Place fish in a covered dish or large resealable plastic bag with the soy sauce mixture, coating all surfaces. Refrigerate at least 2 hours.
Preheat grill to medium heat. Lightly oil grill grate and place salmon on the grill. Discard marinade. Cook salmon until it flakes easily with a fork, 6-8 minutes per side. (depends on thickness of fillets)
MANGO SALSA
1 chopped mango (~1 cup)
1 small jalapeno chili, seeded and finely chopped (2-3 teaspoons)
1/4 cup finely chopped red onion
2 tablespoons finely chopped fresh or 2 teaspoons dried mint leaves (I omitted)
2 tablespoons lime juice
1/8 teaspoon salt
Mix all ingredients in bowl, cover and refrigerate at least 15 minutes.
Sharlene Hensrud, RE/MAX Results - Email - HomesMSP.com
RELATED POSTS