"Don't try the cake. Go for the icing. Happy Birthday!" ~ Liam Holland, age 8
NOTE: I spend my Wednesdays Unplugged from appointments. It's my day to stay home, enjoy cooking and welcome our kids and grandkids for dinner in the evening. We end our meal with quotes from the Norwegian 'Quote Cup' passed on to me from my grandmother. I share a quote and a recipe here each week, and sometimes some photos of family fun. I love trying new recipes...and love getting recipes you would like to share!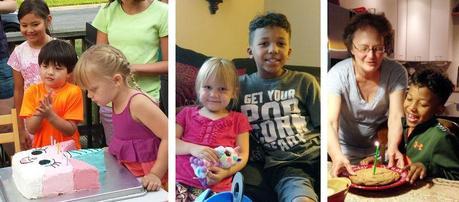 Last week the 22nd was the actual birthday of our birthday buddy grandchildren, but this was the week they celebrated. It's hard to believe that our grandson was the age of granddaughter when she was born 5 years ago. She had an amazing Uni Kitty cake handmade by her aunt... he doesn't like cake, had a birthday-size chocolate chip cookie handmade by him and us grandparents.
RECIPE OF THE WEEK
When I pulled out the recipe for green apple salad at our grandson's request for his birthday dinner I realized it has been a long time since I posted it. This has been a favorite salad for years... not often that a 10-year-old boy asks for a salad for his birthday dinner!
GREENS, APPLES & CASHEWS
1/4 cup sugar
1/4 cup apple cider vinegar
1/4 cup olive oil
1/4 teaspoon garlic powder
1/4 teaspoon Beau Monde seasoning or celery salt
1 bag torn Romaine lettuce
2 apples, chopped
Whole cashews
Mix sugar, vinegar, oil, garlic and Beau Monde seasoning. Cut up apples and mix with dressing in bottom of salad bowl. Top with lettuce, cover bowl and refrigerate. Toss when ready to serve, add cashews to taste.
Sharlene Hensrud, RE/MAX Results - Email - Minneapolis Realtor Who Cooks
RELATED POSTS
Wednesdays Unplugged - Fruity Romaine Salad with poppy seed dressing
Wednesdays Unplugged - Apple Gorgonzola Salad with Italian Vinaigrette and Spiced Walnuts