NOTE: I spend my Wednesdays Unplugged from appointments. It's my day to stay home, enjoy cooking and welcome our kids and grandkids for dinner in the evening. We end our meal with quotes from the Norwegian 'Quote Cup' passed on to me from my grandmother. I share a quote and a recipe here each week, and sometimes some photos of family fun. I love trying new recipes...and love getting recipes you would like to share!
"Peope who work together will win, whether it be against complex football defenses, or the problems of modern society." ~ Vince Lombardi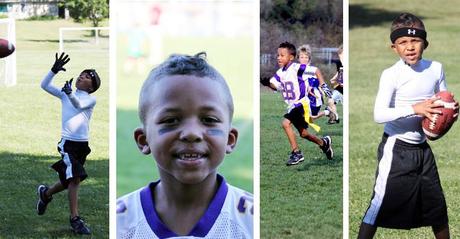 Sunday was our grandson's last tag football 'game' of the season... he's in second grade, hard to believe he will be in tackle football next year. It sounds like our unseasonably warm weather is also coming to an end for now... good part is it sounds like we will be getting some much needed rain. The leaves have color, but look dried out rather than vibrant.
RECIPE OF THE WEEK
This week's recipe is one I made for our BC progressive dinner last weekend... wonderfully moist with a deep, rich, complex chocolate flavor. I found the recipe from Kate Neumann at Food & Wine. I love raspberry with dark chocolate so served it with whipped cream and a raspberry sauce drizzle. One person told me he never takes seconds for dessert, but he had two pieces of this cake!
It calls for strong-brewed coffee to intensify the chocolate flavor and cut the sweetness. I picked up a coffee shop cup of coffee with shots of espresso to use. The recipe also called for a 12-cup bundt pan which I didn't have so used a 10-inch springform pan instead which worked great, just took a little longer to bake. I whisked cake with my mixer. The raspberry sauce called for 2 tablespoons of corn starch but I thought it was a little thick... reduced the recipe below to 1 1/2 tablespoons, might even use less corn starch.
GLAZED DARK CHOCOLATE CAKE with Raspberry Sauce
CAKE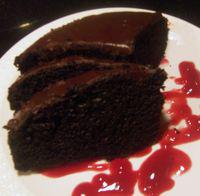 2 ounces bittersweet chocolate, broken into pieces
3/4 cup canola oil
1 cup sugar
1 large egg
2 cups flour
1/2 cup dark Dutch-process cocoa powder
1 tablespoon baking soda
3/4 teaspoon salt
1 cup strong-brewed coffee
1 cup buttermilk
Preheat oven to 350 degrees F. Spray a 12-cup Bundt pan or 10-inch springform pan with cooking spray. In a small saucepan, melt 2 ounces chocolate over low heat, stirring constantly. Scrape chocolate into medium bowl and whisk in the oil and sugar until smooth, then whisk in the egg.
In a small bowl, whisk together the flour, coca powder, baking soda and salt. Add half dry ingredients to the chocolate mixture along with half of the coffee and buttermilk; whisk until smooth. Add remaining dry and wet ingredients and whisk until smooth.
Pour batter into prepared pan and bake in the lower third of the oven for about 45 minutes, or until a probe inserted in the center of the cake comes out with a few moist crumbs attached. Let the cake cool on a rack for 10 minutes, then turn it out of the pan and let cool completely.
GLAZE
3 ounces bittersweet chocolate, broken into pieces
1/3 cup heavy cream
1/2 tablespoon corn syrup
1/2 tablespoon unsalted butter
In a small saucepan, bring cream to a boil. Combine chocolate, corn syrup and butter in a heat resistent bowl and pour the cream over it. Let it stand until the chocolate is melted, about 5 minutes. Whisk until smooth and let it cool until thick but still pourable, about 5 minutes. Pour the ganache glaze over the cake and let sit until the glaze is set, at least 30 minutes, before serving.
RASPBERRY SAUCE
10 ounce box frozen raspberries in syrup
1/4 cup sugar
1 1/2 tablespoons cornstarch
2 tablespoons orange or raspberry flavored liqueur, or water
Thaw raspberries in fine strainer over 4-cup measuring cup. Set raspberries aside and add enough water to make one cup. Mix juice, berries, sugar and cornstarch in medium saucepan and heat to boiling over medium heat. Boil and stir one minutes. Pour over strainer in measuring cup again and press berries through strainer, leaving seeds. Discard seeds, add 2 tablespoons liqueur or water to the strained sauce and set aside. Drizzle over cake to serve.
Sharlene Hensrud, RE/MAX Results - HomesMSP.com