NOTE: I spend my Wednesdays Unplugged from appointments. It's my day to stay home, enjoy cooking and welcome our kids and grandkids for dinner in the evening. We end our meal with quotes from the Norwegian 'Quote Cup' passed on to me from my grandmother. I share a quote and a recipe here each week, and sometimes some photos of family fun. I love trying new recipes...and love getting recipes you would like to share!
"I am happy and content because I think I am." ~ Alain-Rene Lesage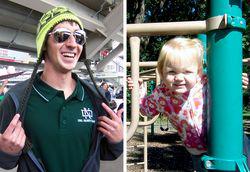 Following in his father's and uncle's footsteps, our nephew Josh is singing in the Varsity Bards at UND this year. It was fun hearing them sing the national anthem at the Twins game this weekend (no, not the Varsity Band as the display board announced!) Granddaughter Sina spent the day with us on Monday... I sneaked in a visit to the playground with her around lunchtime, before appointments for me and a 3+ hour nap for her!
RECIPE OF THE WEEK
Tomato season is late this year and now that they are finally ready to eat this recipe for a tomato tart looked intriguing. The recipe said it could be served either warm or at room temperature so I opted to make it earlier in the day and serve at room temperature. None of us cared for it that much because it seemed to try to compete with fresh tomatoes and mozzarella which won hands down. When I ate it warmed as leftovers during the week, however, I found myself glad there were so many pieces left... it was delicious... like an extravagant margherita pizza!
FRESH TOMATO and MOZZARELLA TART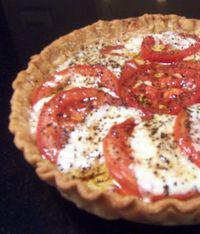 1 pie crust (1/2 of 15 ounce package refrigerated pie crusts)
3-4 fresh tomatoes (12 slices)
1 teaspoon kosher salt, divided
1/4 cup bread dipper oil with garlic and basil (Byerly's Classic Tuscan)
1 tablespoon shipped fresh basil
1 8-ounce package fresh mozzarella, cut into 12 slices
1 teaspoon fresh ground black pepper
Prepare pie crust dough and press into 9-inch tart pan with removable bottom. Trim edges, prick bottom and sides of crust with tines of fork. Bake according to package directions, or 400 degrees 10-12 minutes until golden brown. Cool slightly.
Core tomatoes, slice and reserve end slices from each tomato. Arrange 1/4" slices on paper toweling and sprinkle with 3/4 teaspoon kosher salt. Let stand for 10 minutes, then pat dry. Coarsely chop end slices of tomatoes and drain.
In small bowl, combine chopped tomatoes with remaining 1/4 teaspoon salt, 1 teaspoon bread dipper and 1/2 teaspoon basil. Spoon over bottom of crust.
Arrange tomato slices alternately with mozzarella slices, overlapping slightly. Brush 2 tablespoons bread dipper over tomato and cheese slices. Sprinkle with pepper. Bake until cheese is melted and lightly browned, 25-30 minutes.
Sprinkle with remaining 2 1/2 teaspoons basil. Let stand 5-10 minutes, then brush with remaining 1 tablespoon of bread dipper. Serve warm.
Sharlene Hensrud, RE/MAX Results - Email - HomesMSP.com
RELATED POSTS