"Strangers are what friends are made of." ~ Cullen Hightower
NOTE: I spend my Wednesdays Unplugged from appointments. It's my day to stay home, enjoy cooking and welcome our kids and grandkids for dinner in the evening. We end our meal with quotes from the Norwegian 'Quote Cup' passed on to me from my grandmother. I share a quote and a recipe here each week, and sometimes some photos of family fun. I love trying new recipes...and love getting recipes you would like to share!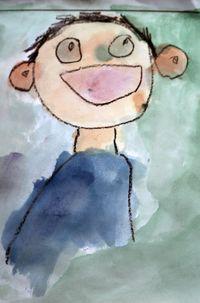 Another busy week with both buyers and sellers... grandkid sleepover... helping with packout of 1,000,000 meals for
Feed My Starving Children
... 11 degrees this morning, but still supposed to hit 30 today, beautiful hoarfrost last weekend... birds have been singing, feels strange for the beginning of February... love this self portrait by our grandson...
RECIPE OF THE WEEK
I created this week's recipe a couple weeks ago when I was looking for something to serve in addition to salmon with the grandkids in mind. The flavor was so good, our adult kids said it was a keeper... so here it is. I used both drumsticks and chicken breasts, but much preferred the breasts... dipped the chicken in a beaten egg but could just as easily use olive oil for dipping.
CRISPY CHICKEN
2-3 pounds chicken breasts

Beaten egg
Olive oil
1 cup panko bread crumbs
1 cup corn flake crumbs
1 tablespoon garlic powder
1 tablespoon onion powder
1 tablespoon seasoned salt
Preheat oven to 350 degrees F. Wash chicken under cold running water and pat dry, then toss in beaten egg or olive oil to coat. Combine seasonings in in a large ziplock bag. Drop in the chicken parts and shake to coat evenly.
Place chicken pieces top side down in baking pan coated with oil olive oil. Drizzle more olive oil over the top. Bake 20 minutes, then turn chicken and bake another 20 mintes. Check to see if chicken is cooked through... if not, cook up to another 20 minutes until tender and juices run clear.
Sharlene Hensrud, RE/MAX Results - Email - HomesMSP.com