"Deep summer is when laziness finds respectability." ~ Sam Keen
NOTE: I spend my Wednesdays Unplugged from appointments. It's my day to stay home, enjoy cooking and welcome our kids and grandkids for dinner in the evening. We end our meal with quotes from the Norwegian 'Quote Cup' passed on to me from my grandmother. I share a quote and a recipe here each week, and sometimes some photos of family fun. I love trying new recipes...and love getting recipes you would like to share!
I remember thinking not that long ago that we were having idyllic weather in my mind... cool evenings with days in the 70s and maybe low 80s... not a hot summer. That was overturned by scorching heat this week with a heat advisory in effect for several days in a row... heard it was enough to possibly make this Minnesota's hottest summer on record. It's State Fair time, where President Teddy Roosevelt made his famous 'talk softly and carry and big stick' speech in 1901... the summer with the hottest day in US history, when Minneapolis hit 106 degrees!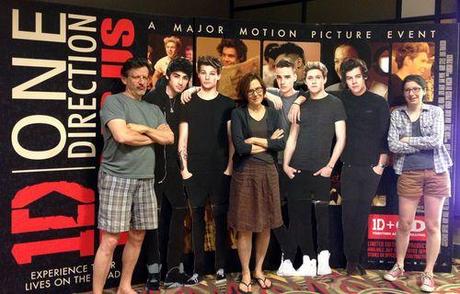 My cousin and some of her family were here for a visit from Connecticut this week... had a fabulous time, but it was better movie weather than State Fair weather even though we did attempt a visit. We melted and went home early, but the positive thing was there weren't any crowds so we didn't have to stand in lines!
RECIPE OF THE WEEK
I was looking for a way to use the wonderful corn and tomatoes in season now and found a great recipe from Aida Mollenkamp at foodnetwork.com. Our crowd likes a little less cilantro, and I used Mozzarella di Bufala from Italy, which was fabulous. I found I liked it even better the day after making it, when flavors had a better chance to blend.
CORN, TOMATO, AVOCADO SALAD with Mozzarella di Bufala
DRESSING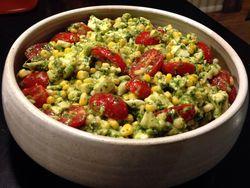 1 1/2 cups packed fresh cilantro (or to taste)
1/2 cup high quality extra-virgin olive oil
2 tablespoons fresh lime juice (about 1 lime)
1 teaspoon finely grated lime zest
2 teaspoons kosher salt
Freshly ground pepper to taste
SALAD
4 ears fresh corn
1 1/2 pounds grape tomatoes
1 pound fresh mozzarella di bufala
2 medium avocados
Combine the dressing ingredients in a blender or food processor. Process until smooth and set aside.
Boil corn about 5 minutes, then immerse in ice water. Cut off kernels and place in large bowl. Halve grape tomatoes and add to bowl. Dice mozzarella and avocados and add to bowl, then add dressing and toss. Let sit at least 15 minutes before serving.
Sharlene Hensrud, RE/MAX Results -
Email
- Minneapolis Realtor who cooks