NOTE: I spend my Wednesdays Unplugged from appointments. It's my day to stay home, enjoy cooking and welcome our kids and grandkids for dinner in the evening. We end our meal with quotes from the Norwegian 'Quote Cup' passed on to me from my grandmother. I share a quote and a recipe here each week, and sometimes some photos of family fun. I love trying new recipes...and love getting recipes you would like to share!
"The free exploring mind of the individual human is the most valuable thing in the world." ~ John Steinbeck

It is hard to believe that just a week ago we were in California, soaking in the beauty of Lake Tahoe and warm company of treasured family. Today we gather again with our family here... celebrating lots of birthdays this month. This week's quote is from one of the writers on the engraved path of Jack Kerouac Alley in San Francisco.
RECIPE OF THE WEEK
Of course, any gathering requires food and I must share some new recipes. This week's recipe is for a wonderful sweet/spicy salsa with no tomatoes, could also be used as a relish. It's a truly simple sharing recipe from my cousin in Sacramento. The bowl pictured below is a double recipe.
CORN, BLACK BEAN and POMEGRANATE SALSA
recipe from Carole Martinson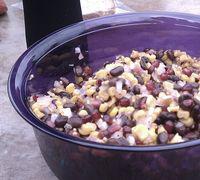 1 jar Trader Joe's Corn and Chile Salsa
1 can black beans
1 package pomegranate seeds (in the produce section)
Chopped red onion to taste
Mix ingredients and serve with tortilla chips... yum!!!
Sharlene Hensrud, RE/MAX Results - Email - HomesMSP.com
RELATED POSTS