Wednesdays Unplugged - Broccoli Cheddar Salad with bacon

"Not all who wander are lost." ~ 
J.R.R. Tolkien
NOTE: I spend my Wednesdays Unplugged from appointments. It's my day to stay home, enjoy cooking and welcome our kids and grandkids for dinner in the evening. We end our meal with quotes from the Norwegian 'Quote Cup' passed on to me from my grandmother. I share a quote and a recipe here each week, and sometimes some photos of family fun. I love trying new recipes...and love getting recipes you would like to share!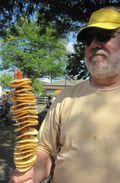 We went to the Fair last Friday and spent the day just wandering around. Some years we are more purposeful but not this year... it felt good being serendipitous, just being there and soaking it all in. We didn't even eat a lot, but picked up my standard 'Turkey to Go' sandwich and cup of fresh cut french fries. Hamline church diner was serving Izzy's ice cream this year with a flavor custom made for them so had to taste that. We usually try something new... this year was sausage in a tater twist (on a stick, of course!)  We ended the day by riding the Sky Glider up to the north lot where we parked. That has become my favorite way to leave the fair... quietly looking down over where we have been, then gently floating down near the gate to say goodbye until next year.
RECIPE OF THE WEEK
Last Wednesday I was cooking while my husband took our two grandsons to see the Pirates exhibit at the Science Museum. I felt like broccoli salad, but wanted to try a new twist so added cubes of cheddar cheese. Many in my family like onion flavor but not the crunchiness of raw onions so added onion powder to the dressing.
BROCCOLI CHEDDAR SALAD with bacon
4 

broccoli crowns, broken into bite size pieces
12 ounces bacon, cooked and crumbled
8 ounces cheddar cheese, cubed
1 cup mayonnaise
1/2 cup granulated sugar
1 teaspoon onion powder
3 tablespoons white vinegar
Combine the broccoli, bacon and cheese in a large mixing bowl.
In a medium bowl, whisk together the mayonnaise, sugar, onion powder and vinegar. Pour the dressing over the broccoli mixture and stir until everything is evenly coated.
Cover and refrigerate an hour or two before serving.
Sharlene Hensrud, RE/MAX Results - Email - Minneapolis Realtor who cooks