NOTE: I spend my Wednesdays Unplugged from appointments. It's my day to stay home, enjoy cooking and welcome our kids and grandkids for dinner in the evening. We end our meal with quotes from the Norwegian 'Quote Cup' passed on to me from my grandmother. I share a quote and a recipe here each week, and sometimes some photos of family fun. I love trying new recipes...and love getting recipes you would like to share!
"Before someone's tomorrow has been taken away, cherish those you love, appreciate them today." ~ Michelle C. Ustaszeski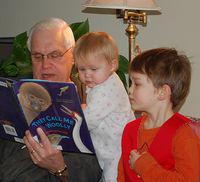 This holiday season has been bittersweet as we lovingly remember close family members lost to us this year. The tomorrows of our daughter-in-law's father, Grandpa Bob, were suddenly taken away a year ago tomorrow but his legacy of kindness and generosity live on both in cherished memories and in the lives of those he touched and left behind. Show and tell those you love that you cherish them... often.
RECIPE OF THE WEEK
This week's recipe is Grandpa Bob's Beef Stroganoff, which he made many times through the years from a recipe passed down through his family that may have even come from his father. We had it for Christmas this year, a tangible remembrance of how families continue to touch the lives of generations to follow.
BOB'S BEEF STROGANOFF
2 1/2 pound round steak

1 cup chopped onion
Butter
Salt & pepper
1/2 can tomato soup
1 can cream of chicken soup
1 can cream of mushroom soup
3/4 tablespoon dill weed
1/4 cup cooking wine
1 can mushrooms
1 cup sour cream
Egg noodles or wild rice
Cut round steak into strips or cubes, brown and set aside. Add some butter to pan and brown onions sprinkled with salt and pepper, loosening pan fond. Put meat back in pan and add cream of chicken and cream of mushroom soups, 1/2 can tomato soup, 3/4 tablespoon dill weed, 1/4 cup wine and can of mushrooms.
Simmer slowly 1-1 1/2 hours. Stir in 1 cup sour cream and serve over noodles or wild rice.
Sharlene Hensrud, RE/MAX Results - Email - HomesMSP.com