NOTE: I spend my Wednesdays Unplugged from appointments. It's my day to stay home, enjoy cooking and welcome our kids and grandkids for dinner in the evening. We end our meal with quotes from the Norwegian 'Quote Cup' passed on to me from my grandmother. I share a quote and a recipe here each week, and sometimes some photos of family fun. I love trying new recipes...and love getting recipes you would like to share!
"The longer I live the more beautiful life becomes." ~ Frank Lloyd Wright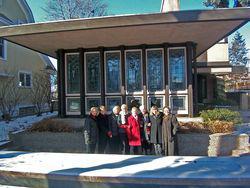 It has been another fun holiday week. Concerts last weekend, but the highlight of the week was our Breakfast Club visit to the Purcells Cutts House masterpiece of Prairie School architecture. I have visited in the summer, but never before during the Christmas holiday season. It is usually open only one weekend a month, but during this season it is open every weekend.  We had a private Friday morning tour when the low morning sun was streaming through the gorgeous art glass windows, making it feel like we were inside a glass jewel box. It was a real treat!
RECIPE OF THE WEEK
This is another recipe perfect for holiday gatherings, another delicious Breakfast Club recipe. The bacon and tomatoes are in the dip, the lettuce comes from the Belgian endive leaves on which they are served... creating lettuce 'boats' instead of lettuce wraps. The dip would also be delicious with other dippers... veggies, crackers, baguettes, etc.
BLT DIP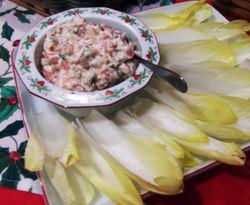 recipe from Barb Bluhm and Southern Living Christmas Cookbook
10 slices bacon, cooked and crumbled
2 large plum tomatoes, seeded and chopped
1/2 cup mayonnaise
1/2 cup sour cream
2 tablespoons chopped flat leaf parsley
1/8 teaspoon garlic salt
1/8 teaspoon fresh ground pepper
Belgian endive leaves
Reserve 1 tablespoon each bacon and tomato. Stir together remaining bacon, tomato and next 5 ingredients in a medium bowl. Cover and chill 1 hour.  Sprinkle dip with reserved bacon and tomato before serving. Serve with endive leaves.
Sharlene Hensrud, RE/MAX Results - HomesMSP.com
RELATED POSTS