NOTE: I spend my Wednesdays Unplugged from appointments. It's my day to stay home, enjoy cooking and welcome our kids and grandkids for dinner in the evening. We end our meal with quotes from the Norwegian 'Quote Cup' passed on to me from my grandmother. I share a quote and a recipe here each week, and sometimes some photos of family fun. I love trying new recipes...and love getting recipes you would like to share!
"The simplest toy, one which even the youngest child can operate, is called a grandparent." ~ Sam Levenson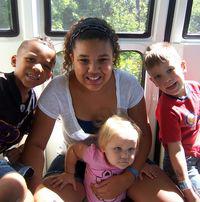 It is becoming a tradition that we take our grandkids to the zoo the last week of August before Labor Day. No daycare this week makes a perfect time for grandparents and grandchildren to connect. It doesn't seem possible that summer is almost over already, it was a strange summer... rainy and cool June followed by sweltering hot July then August that feels like fall is coming already... and now it's time for school!
RECIPE OF THE WEEK
This week's recipe was one I made last Wednesdsay that I have been enjoying in leftovers all week. It's a simple staple... simple taste, simple to make... good, basic, uncomplicated. Plus you can add whatever suits your fancy or you happen to have on hand!
16 ounce package angel hair pasta
1 tablespoon plus 1 teaspoon olive oil
1 cup finely chopped onion
2 cloves garlic, chopped
2 14.5-ounce cans diced tomatoes
2 teaspoons sugar
2 packages boneless chicken breats (1-1.25 pounds each)
1/2 cup chopped fresh basil
1 teaspoon salt
1/4-1/2 teaspoon hot pepper sauce
1/2 cup shredded Parmesan cheese
Fry chicken breasts until no longer pink but still juicy. Cut into cubes and set aside.
Bring a large pot of salted water to a boil. While it is heating, chop onion and garlic, then saute in olive oil. Add pasta to boiling water and cook to al dente according to package directions.
Meanwhile, add tomatoes, sugar, chicken, basil, salt and hot pepper sauce to onion and garlic. Reduce heat to medium, cover and simmer about 5 minutes, stirring frequently.
Toss sauce with cooked angel hair pasta and top with grated Parmesan cheese.
Sharlene Hensrud, RE/MAX Results - Email - HomesMSP.com