"Love and time; those are the only two things in all the world and all of life that cannot be bought, but only spent." ~ Gary Jennings

NOTE: I spend my Wednesdays Unplugged from appointments. It's my day to stay home, enjoy cooking and welcome our kids and grandkids for dinner in the evening. We end our meal with quotes from the Norwegian 'Quote Cup' passed on to me from my grandmother. I share a quote and a recipe here each week, and sometimes some photos of family fun. I love trying new recipes...and love getting recipes you would like to share!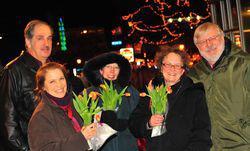 Went to
Chiang Mai Thai
last weekend to celebrate the birthday of a dear friend... those who hadn't been there before said it is their new favorite Thai restaurant!  Last night we enjoyed dinner and the music of AMIFETIKA for Valentine's Day. This is one of the few weeks this winter when I actually see a little dusting of snow when I look out my window! 
RECIPE OF THE WEEK
Salmon is one of my favorites and I am always looking for new ways to prepare it. This recipe from allrecipes.com is super easy, moist and delicious... I doubled the recipe.
BAKED SALMON in foil
2 cloves garlic, minced

6 tablespoons light olive oil
1 teaspoon dried basil
1 teaspoon salt
1 teaspoon coarsely ground black pepper
1 tablespoon lemon juice
1 tablespoon fresh Italian parsley, chopped
2 (6 ounce) fillets salmon
In a medium glass bowl, prepare marinade by mixing garlic, light olive oil, basil, salt, pepper, lemon juice and parsley. Place salmon fillets in a medium glass baking dish, cover with the marinade. Marinate in the refrigerator about 1 hour or more, turning occasionally.
Preheat oven to 375 degrees F.
Place fillets in aluminum foil, cover with marinade and seal. Place sealed salmon in the glass dish, and bake 35-45 minutes, until easily flaked with a fork.
Sharlene Hensrud, RE/MAX Results - Email - HomesMSP.com