NOTE: I spend my Wednesdays Unplugged from appointments. It's my day to stay home, enjoy cooking and welcome our kids and grandkids for dinner in the evening. We end our meal with quotes from the Norwegian 'Quote Cup' passed on to me from my grandmother. I share a quote and a recipe here each week, and sometimes some photos of family fun. I love trying new recipes...and love getting recipes you would like to share! 


We have been having special times with family this month. Last weekend was a another big weekend. Our daughter and two grandchildren spent time with my cousin and uncle and aunt on the farms where I grew up near Grand Forks, ND... thanks to them these 'city kids' got to ride horses and tractors and climb on the combine, pretty cool stuff! Then the rest of us met up later in Fargo-Moorhead for a nephew's wedding... special times for all.
RECIPE OF THE WEEK
It seems only fitting to share a family recipe this week. This recipe is from our daughter-in-law's Aunt Cathy... served on July 4th when my cousin was visitng from Colorado.
Aunt Cathy's CUCMBER DIP/SPREAD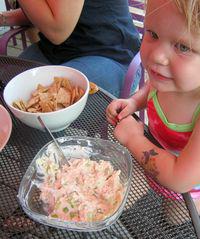 8 ounces cream cheese
1/3 cup Miracle Whip
1 cup diced, seeded cucumbers
1/4 teaspoon salt
1/2 teaspoon dill weed & chive or onion
Dice cucumbers and sprinkle with salt. Blend cream cheese and Miracle Whip, add herbs. Serve with crackers.
Sharlene Hensrud, RE/MAX Results - Email - Minneapolis Realtor who cooks