NOTE: I spend my Wednesdays Unplugged from appointments. It's my day to stay home, enjoy cooking and welcome our kids and grandkids for dinner in the evening. We end our meal with quotes from the Norwegian 'Quote Cup' passed on to me from my grandmother. I share a quote and a recipe here each week, and sometimes some photos of family fun. I love trying new recipes...and love getting recipes you would like to share!
"Find something that gets you so excited that the sun can't come up early enough in the morning because you want to do your thing." ~ Chris Gardner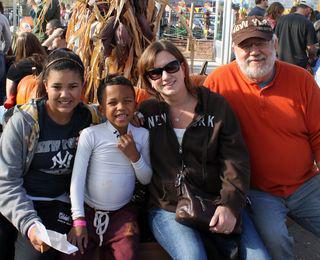 Last weekend was 3rd Friday grandkid sleepover and we had a fun-filled time... they are always ready to get up and get going! Saw Dolphin Tale in 3-D Friday night... then our daughter joined us for the Shrine Circus Saturday morning and a corn maze in the afternoon... gorgeous day!
RECIPE OF THE WEEK
My favorite desserts and fruit and chocolate, and this week I am sharing a recipe sent to me by a client... her mother's apple crisp recipe. It's yummy... thanks, Barb!
MARY JANE'S APPLE CRISP (French Apple Delight)
recipe from Barb Seward
6 cups apples, peeled and cut into chunks/slices

1/2 to 3/4 cup sugar
1 teaspoon cinnamon
2 tablespoons flour
Mix above ingredients and place in a 9x9 pan buttered or sprayed with cooking spray.
1 cup flour
1/2 cup butter
1/2 cup brown sugar, packed
Mix above ingredients well to form crumbly mixture, and sprinkle on top of the apple mixture above.
Bake at 400 degrees F for 15 minutes OR at 350 degrees F for 25-30 minutes, until brown around the edges and fork tender. Great with vanilla cinnamon icream or vanilla frozen yogurt!
Sharlene Hensrud, RE/MAX Results - HomesMSP.com