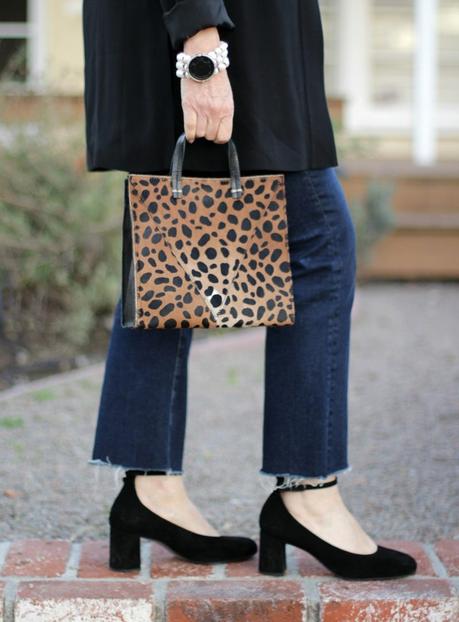 I love my Clare V. leopard clutch and how it really pops against a neutral outfit, but have been hoping to find a similar bag with handles and/or a strap. Bingo! This one is also from Clare V, with a top handle and a removable cross-body strap.
Above: bracelet | bag | jeans (DIY raw hem) | shoes (similar)
*******************************
My healthy eating plan is going well, though has not budged the scale much, so I've begun tracking Weight Watchers points again to keep myself honest about portion sizes and snacking.
*******************************
I've hired a photographer! She's a lovely young woman and a student at one of the local community colleges. We did our first shoot yesterday, and I hope to have some images to share soon.
*******************************
There's no escaping that we are living in turbulent times. Though I am a woman of strong and (I hope) informed opinions, I made the decision a few years ago to stay away from politics on this blog and I'm holding myself that decision. But that doesn't mean I haven't been affected by the last few days and weeks. When anxiety is high and rhetoric gets heated, I find it helps to reconnect with and be guided by my values: kindness, compassion, an open mind, logic and reason, self-reliance, trying to do the most good for the most people, nature, and fairness. I reject bigotry, cruelty or willful ignorance.
Some good ideas for self-care here.