Star turn of the week is of course Salma, my fabulous, musical Star Bride. She's been sharing her wedding in little snippets and I know from behind the scenes here there's more to come!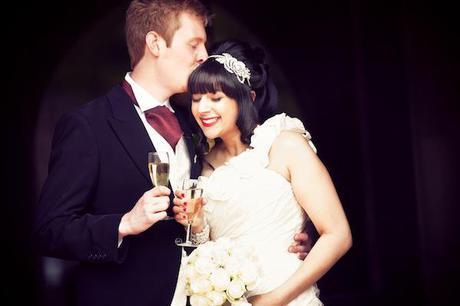 Salma's Wedding blog catch up
The Dresses – Me and My Girls
Before the ceremony
The ceremony and after (I love the "you may kiss the bride" pic!)
I'm so excited for Star Bride Sally – it's her big day this week and she posted her last pre-wedding update on Friday!
The week on English Wedding blog – quick round up
Emma and Lee's Cardiff Castle wedding – a feast for the eyes in two parts!

Horses for courses – a creative bridal shoot featured for the fun of it – I LOVE the creativity in this one!

Get your charity wedding favours here
A gorgeous real wedding at the Maynard Hotel

I introduced my friend and sponsor, documentary wedding photographer Martin Beddall properly!
The week in wedding blogs – my favourites from your blogs!
I'm not going to share any sneak previews here this week… they'll be on the English Wedding blog facebook page so click, like, and watch for 'leaks' over there. I have some brilliant weddings coming up over the next few weeks, including wedding guests rolling down hills, the most colourful weddings you've seen, and naughty sock monster table centrepieces. Oh yes.
http://www.facebook.com/EnglishWedding
Have a great week everyone!
Claire xx