Glamour's wedding blog is consistently smart, funny, and chock full of wedding prettiness (and what more can you ask for in a wedding blog, truly?) The Glamour team turns out a double dose (if not more) of gowns, rings, etiquette, advice, and celeb wedding news every.single.day. – and their readers love them for it!
The strong community of commenters are brides-to-be (in the immediate future or in their distant daydreams), brides-who've-been-there, and anyone else who's simply wedding obsessed, and Glamour understands what they want – nay need, from the Glamour wedding blog.
And sometimes, that's a fresh whiff of humor to lighten up the sometimes stressful planning process. The post The 13 Things You Think While Being Fitted for a Bridesmaid Dress had us chuckling. We're sure some of our RLJ brides and their wonderful bridesmaids can commiserate.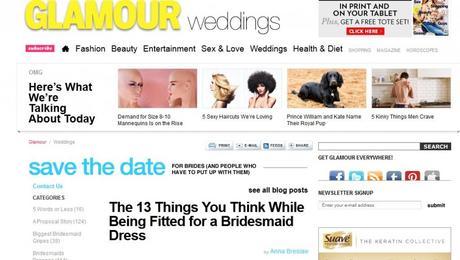 If you could use a laugh (or 13) head over to the Glamour Weddings blog to check out this great article, along with their many other posts. And make sure you visit our earlier post from this morning to ogle some beautiful wedding cakes and wedding day jewelry.
Liz for Raymond Lee Jewelers, South Florida's choice for buying and selling  engagement rings, wedding bands and wedding trends.