Just a short post and yet again it's on the subject of vases! I bought a pack of 12 vases which you can buy from Ikea, eBay, Wilkinsons etc, you'll recognise the shape no doubt, and I mainly bought them for back up in case we needed a few extra for the wedding (little did I know I'd end up with as many as I did!) I refound them a week or so ago, and felt it a waste not to use them, and had been to a haberdashery shop that day buying a ton of lace in cream, coffee, pink and blue.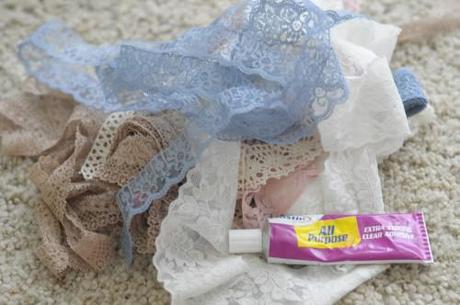 I thought I'd give customising them a go, not too bothered whether I liked the results (12 vases cost around £7), but I love them! I think they look so elegant, and fit more with the whole vintage look of a few of the other details I have planned.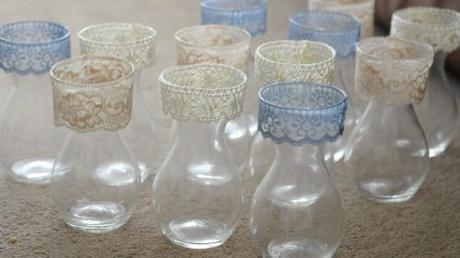 I used all purpose craft glue (which obviously dries clear), only glued along the top of the lace strips and a little for the overlap, so that some lace hangs from the rim of each vase. Tell me what you think, and whether you're as much of a lace fiend as me- I'm using it for everything I can't get enough!
Sally xx