An engagement ring should be a perfect to fit the bride's taste and when it comes to taste we know women's range on a very large scale.But once you answer the big question and open the box that will most likely hold your new favorite piece of jewelry the next big question becomes "How do I make my engagement ring look its best?" The secret lies in having beautifully manicured nails that compliment your sparkling ring. Whether you do your own nails or decide to put your hands in the hands of others, here are some lovely nail art designs that will make any rings look its best on the big day.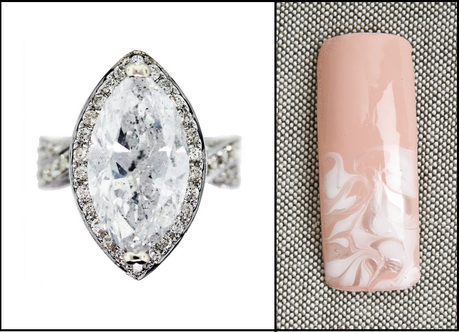 nail art via nailsmag.com
No ring says "Marry me?" better than our 7.28 carat Estate Marquise cut diamond engagement ring in 14k white gold. The sparkle in this one is sure to make you feel like you're in heaven which is why we've paired in with this smokey and airy nail design. This design could be done with a marble brush, toothpick, or similar tool.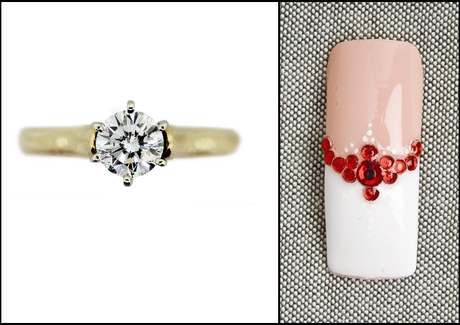 nail art via nailsmag.com
The gold setting on our 14k yellow gold and diamond engagement ring is sure to make any bride feel like an imperial goddess. We have paired this radiant ring with a french based and red stone embellished design in order to assist in creating the royal feel. This nail design could be done with nail art rhinestones.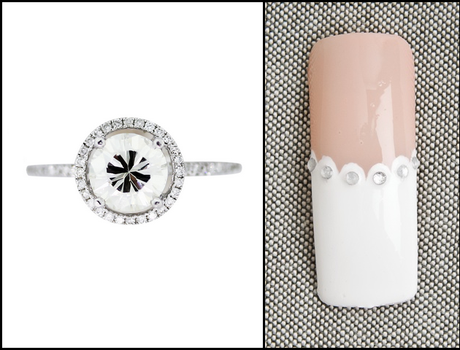 nail art via nailsmag.com
Show your bride that your love is eternal and has come full circle with our 1.33 carat diamond Halo engagement ring with its round brilliant cut diamond. We have paired this ring with a classic french based design and half arched smile line which compliments the ring's stone. Add some nail art rhinestones for a sparkling finish.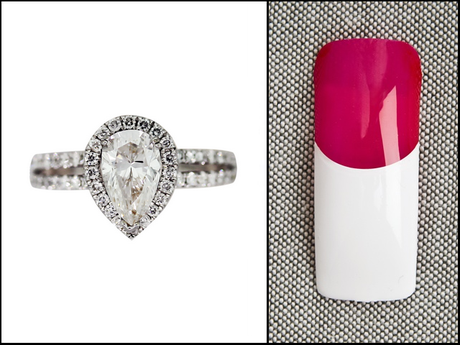 nail art via nailsmag.com
Our 18 k white gold pear shaped Halo engagement ring is a bride's dream come true with it's elegance. We have paired this charming ring with an equally charming and unique nail design called "The Cuban". This nail design is simple yet interesting because of the contrast of the nail bed in red and the free edge in white.
Mireidys for Raymond Lee Jewelers, South Florida's source for vintage engagement rings.