I think I've hit what Salma accurately called 'Wedding Limbo' this week. I feel slightly out of sorts, and it seems to be laborious or dull tasks left to be completed (this week it's licking over 50 stamps and addressing envelopes for invites), and when everyone asks me "So! How are the wedding plans going?" I feel quite reluctant to admit that everything's pretty much done, and I don't know why I don't feel more elated?
This week I've had to buy cream thread for a slight 'touching up' sewing job for my wedding dress, aforementioned invites, a stack of phone calls and emails to the organist, videographer, tailor for the bridesmaid dresses.. I had to swap (but keep) my oh-so-beautiful wedding lingerie for a less-than-gorgeous flesh coloured 'invisible' set as you could see the first set underneath my dress, and to be honest I want to shift at least half a stone before the big day.. 2 months to go and counting. Nothing very exciting really?! Just all of the final few things to sort that no-one really wants to do! On a lighter note I was in a taxi and speaking to the driver a few days ago who mentioned that his daughter was also getting married in July, but it was an Asian wedding (he didn't mentioned which nationality) and that he and his wife had to plan a THREE DAY celebration, and in that time were feeding over 1,500 heads plus all of the other wedding rituals and celebrations.. so maybe I should count ourselves lucky that we haven't signed up for more!
I have also (finally) decided to book a hair and make-up trial as I realised I feel nervous enough now so my hands would definitely be shaky on the day, so Louise and I are heading off on Wednesday to give it a go and I'm looking forward to a bit of pampering after a hectic few weeks. I won't tell you what I'm going to ask for but I'll blog it all soon!
And to lift the mood I'm going to share something which I've thought a lot about over the past few months: my something old, something new, something borrowed and something blue. As I've mentioned I'm probably a little too sentimental, and all my jewellery means something to me and has been passed onto me from every corner of my family (a post to come soon!), but I don't own a piece from my late Grandma Margaret, my mum's mum. Vivienne's middle name is Margaret after her, and I knew I wanted her to be part of my day, and thought of a nice way to incorporate a piece of her jewellery collection into my wedding attire.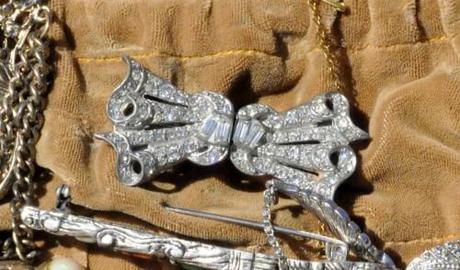 Grandma Margaret's Brooch
I'm commissioning a blue garter from Katy- my something new and blue, and borrowing the beautiful bow brooch above to attach to it- something borrowed and old. I'm so excited to see it all come together, but I don't think I'm allowed to get my hands on the brooch until closer to the day. I also had to measure my thigh for Katy which was more than I thought and a little depressing!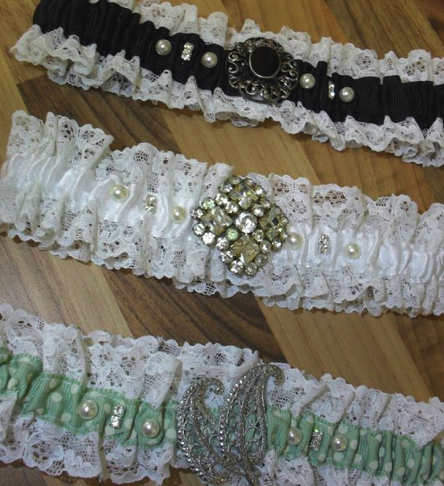 What Katy Did Next's garters
So, I'm sorry for a 'tired' blog post, but I think every bride must reach the stage where you just want to talk about something else, I still feel incredibly lucky to have a fabulous family around me to help celebrate what we have, and I'm still very much looking forward to the day itself. I'm also sure I'll feel brighter after a day at the salon with my gorgeous Maid of Honour!
Sally xx