This morning I want to see if we can find some gorgeous wedding invitations – to help all you brides and grooms who are looking for invitations right now, and also because I love wedding stationery – it's a paper thing, and a girl thing. Wedding invitation designers – the English Wedding Showcase needs you!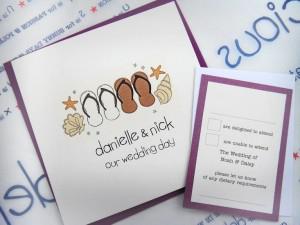 Wedding invitation "on the beach" by Bunny Delicious
Helping you find the perfect wedding invitations…
This is just like a wedding magazine feature: the way it works is the mags ask for ideas and submissions from designers, and everyone sends in their best work. On English Wedding, it's an instant process: I'm hoping to see the best wedding invitations shared in the comments below – and I'm really excited to see what people share! And anyone can join in!
Bright, light, colourful wedding invitations – bring me sunshine!
I'm looking for lovely wedding invitations with color and happy vibes – something to create enthusiasm, make English Wedding readers smile and feel like a picnic (and to warm our hearts while it's sooooo cold outside!)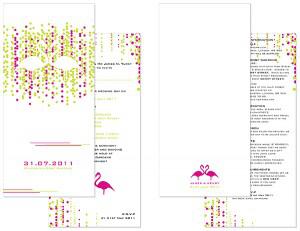 Wedding invitation by Wendy Bell Designs
What to do
Simply use the comments box below. Click 'leave a comment'. When the box comes up saying 'Leave a Reply', tell me a little bit about your favorite wedding invitation. You can upload an image by clicking on Browse and choosing an image on your computer before you click Post Comment. Done!
Every invitation submitted will be shown. I'm not sitting in judgement! I want as many ideas to show brides and grooms as we can come up with. I can't wait to see your best designs – it's going to be a lovely day!
Claire xx.