Wedding Glam & Glitz
You only get one chance to look like the princess that you always dreamed of as a little girl, and that one chance comes on your wedding day. Some of the hottest designer wedding dresses from David's Bridal feature glamorous accents that add to the princess look, including beading. Even if you think that you want something a little simpler, you might be surprised at the dresses that catch your eye.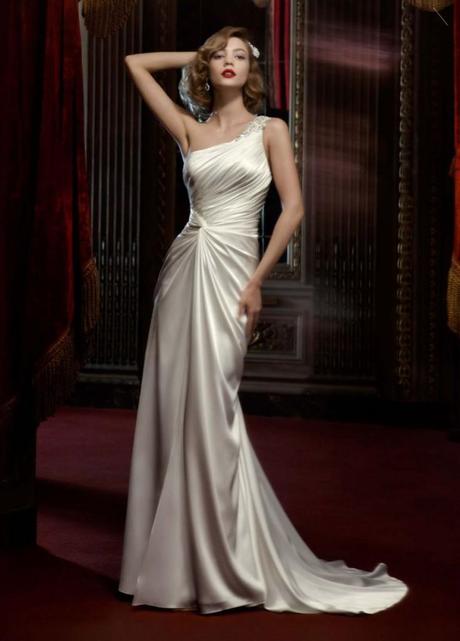 Take for example this charmeuse one shoulder style. This dress harkens back to the glory days of Hollywood because it mimics the styles worn by Veronica Lake and others. The carefully gathered folds of fabric around the midsection will draw attention to a small waist, while the low cut back makes you look as great coming as you do going. For an extra touch of glitz, it features a one-shoulder design with a series of sparkly beads along the strap. A pair of vintage earrings or a sparkly hair clip completes the look.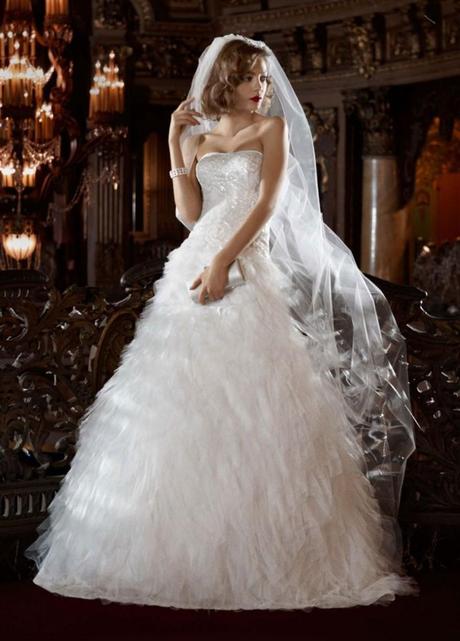 When you want something even more glamorous, reach for this show stopping ball gown. This dress perfectly combines old-fashioned glamour with a modern look. The strapless style fits tightly around the chest and waist before billowing out into a cloud of feather and tulle at the bottom. The fitted top features hundreds of beads that perfectly coordinate with the textured bottom. You can never have enough sparkle so an added beaded choker or a glittery cuff bracelet would complete the look.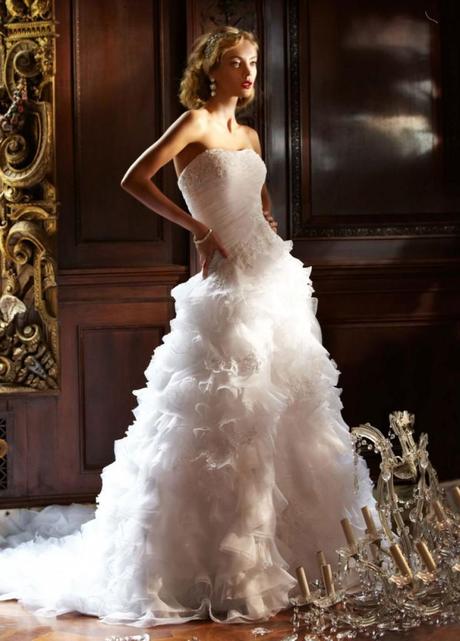 You can even find dresses that combine the best of both worlds such as this gorgeous dress. The top of the dress has a clean silhouette that gives way to a ruffled skirt. A panel of twisted fabric wraps around the top of the dress, breaking up the panels of beaded fabric. The ruffled bottom features hundreds of individual ruffles with small beads added to the ruffles. These beads catch the light as you walk, giving you an impressive and glamorous look. The only extra elements this dress needs is a bracelet on one wrist and a pair of chandelier earrings.
Major wedding manufacturers now make hundreds of different glam wedding gowns because the designers know that most women want something special on their wedding days. After you find the perfect dress, you need to find the perfect accessories. A simple bracelet, a pair of great earrings or a beaded necklace can add to the glitzy style of the dress without detracting from your overall look.
Which one of these is your favorite?