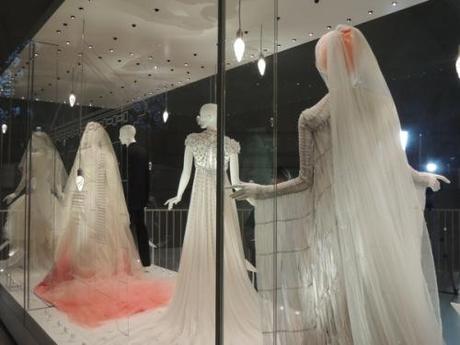 'This exhibition will trace the development of the fashionable white wedding dress and its treatment by key fashion designers such as Charles Frederick Worth, Norman Hartnell, Charles James, John Galliano, Christian Lacroix, Vivienne Westwood and Vera Wang offering a panorama of fashion over the last two centuries. On display will be the most romantic, glamorous and extravagant wedding dresses from the V&A's superb collection and will include some important new acquisitions as well as loans including the purple dress worn by Dita Von Teese for her marriage to Marilyn Manson and the outfits worn by Gwen Stefani and Gavin Rossdale on their wedding day. The exhibition will highlight the histories of the dresses, revealing fascinating details about the lives of the wearers and offering an intimate insight into their circumstances and fashion choices.'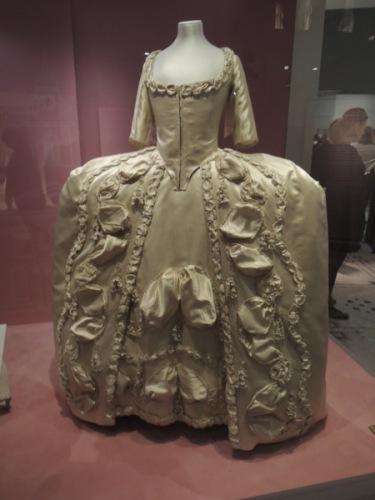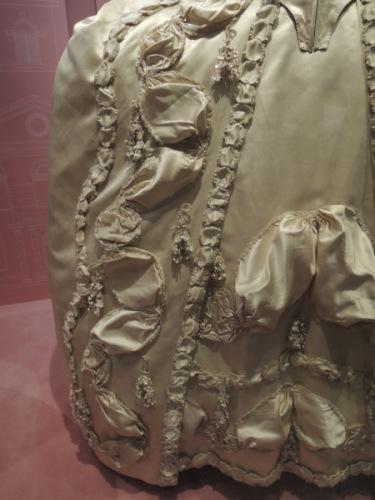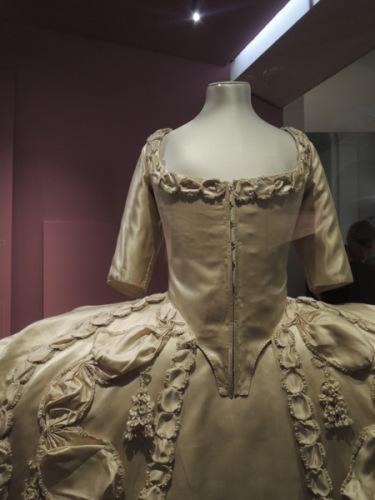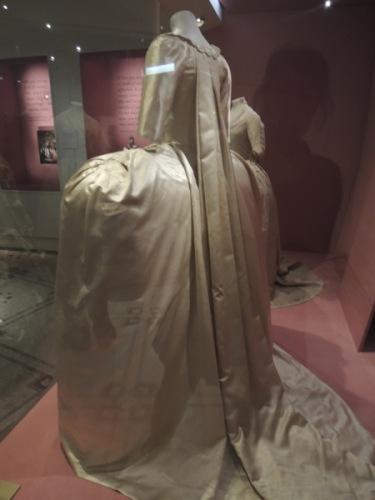 Silk satin court dress, c1775-80.
I may be just a bit of a goth but I have no problem at all admitting that I have rather a huge weakness for the traditional wedding dress – after all, there is nothing quite so dramatic and romantic as the gown that a bride chooses to wear for the most attention grabbing entrance of her entire life and the vast majority of wedding dresses are designed to reflect this and to make sure that no one else draws the eye on the bride's big day.
I was very fortunate indeed to be invited along to yesterday's press preview of the Victoria and Albert Museum's brand new wedding dress exhibition, which is due to open on Saturday. As someone who is passionate about both fashion and social history, it seems to me that there are few sartorial items so fascinating as the traditional wedding dress, which often manages to be rather anachronistic with its nods to past fashions and unwieldy nature so reminiscent of Victorian crinolines or bustles and corseted bodices and yet at the same time follows its own style timeline so that despite the inherently old fashioned mode, you can still fairly accurately pinpoint when a dress was probably made.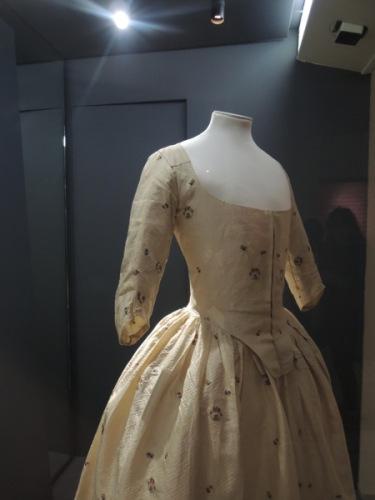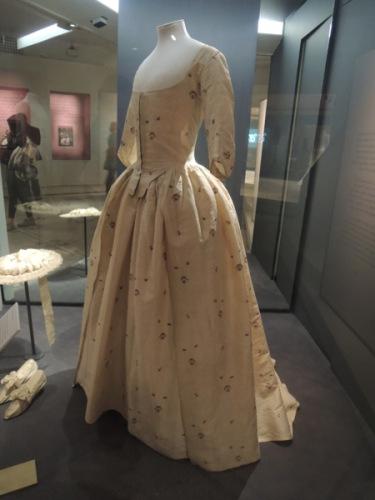 Silk gown and petticoat worn by Jane Bailey in 1780, along with the matching shoes and hat.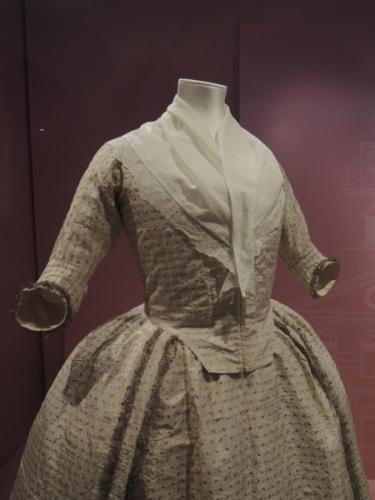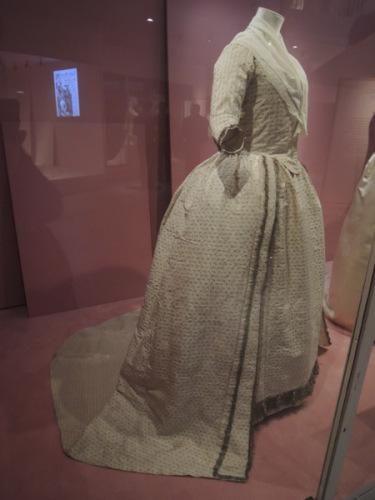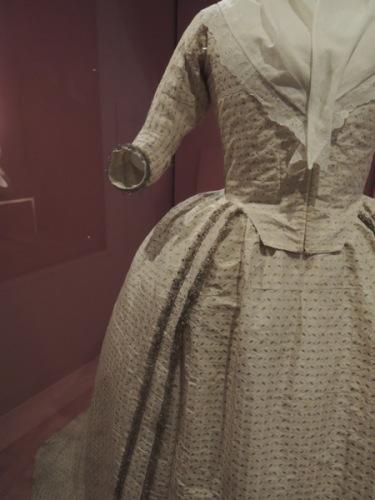 Silver spangled muslin wedding gown, 1790s.
I have to admit now that I was completely blown away by the wedding dress exhibition at the Victoria and Albert Museum – I'd been looking forward to it for MONTHS and it really didn't disappoint at all. In fact, I'd even go so far as to say that it was in some ways just TOO MUCH as I staggered out at the end, snow blind from staring at so much ivory and vowing that I never wanted to set eyes on another sequin. It's this lavish over the top extravagance though that makes wedding dresses so special and if that's what you're after then you'll be going to the right place as this exhibition has almost Liberace levels of opulence going on.
The display is arranged over two floors and you already know that you're in for a serious treat when you look up and see Dita von Teese's spectacular Cadbury purple Vivienne Westwood wedding gown presiding over the entrance and giving a taste of the delights that wait within.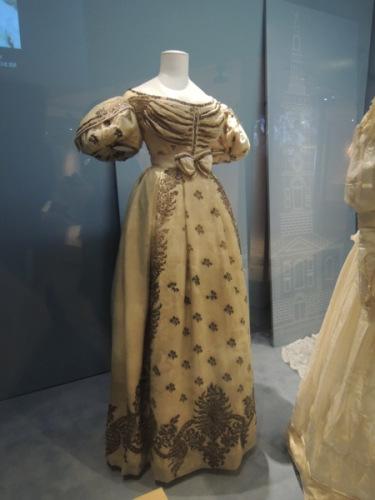 Silk crepe wedding dress, 1828.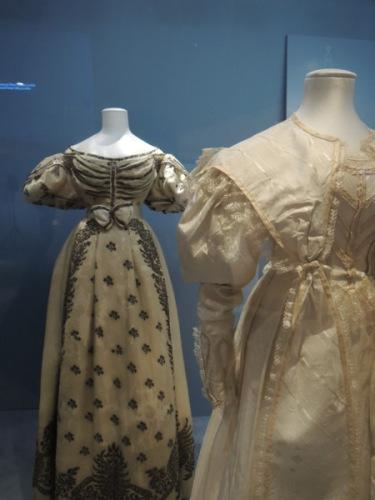 Silk crepe wedding dress (1828) and silk wedding ensemble (1828), the latter dress has false long sleeves for the church ceremony as it was considered inappropriate to have bared arms in church at the time. There are shorter puffed sleeves underneath though.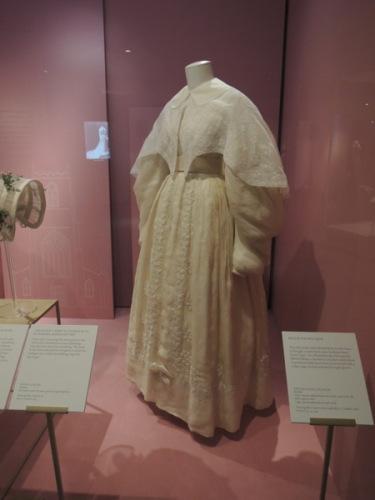 Muslin and silk pelisse robe wedding dress, 1834.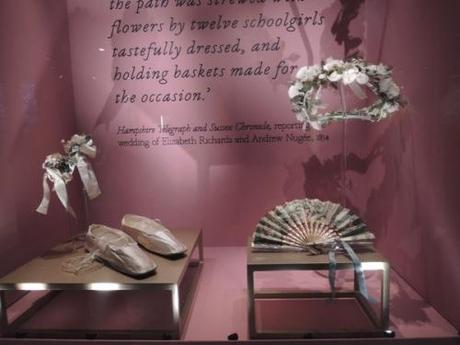 The start of the exhibition focusses on early examples of wedding costume, with beautiful examples from the eighteenth century onwards, a period when the it was slowly becoming customary for brides to wear white as opposed to simply their very best frock and there are wonderful examples on display here of pale silk dresses worn by Georgian brides, including one that still retains the original bergère hat and shoes that were worn with it in November 1780. How amazing is that?
The display then moves on through the Regency and Victorian periods, with dreamy examples of bridal fashion and also some really beautiful accessories that would have been worn alongside the opulent gowns. I was especially taken with the orange blossom embellishments, which were made of wax then carefully scented to make them smell like the real thing. There's also a display of cuttings from Princess Beatrice's trousseau – reflecting a moment of triumph for the young princess who had been groomed since her father's death to remain at her mother's side as a dutiful comforter and companion for the rest of her life but who instead accepted a marriage proposal and made a life of her own.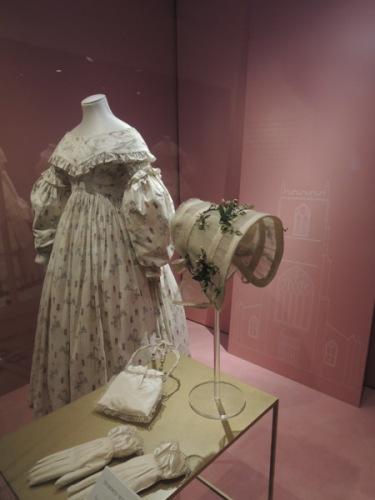 Cotton wedding dress, 1841.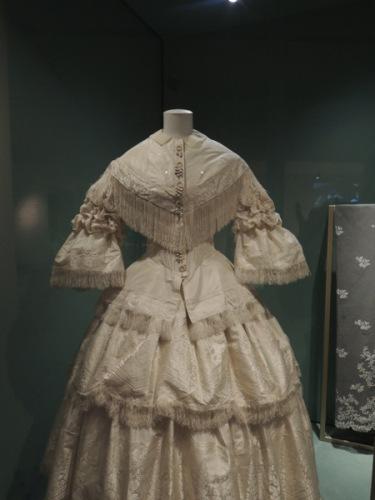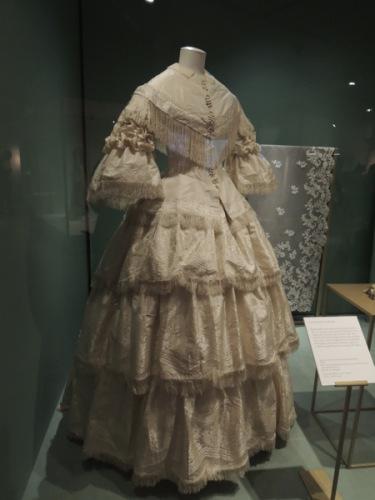 Silk wedding dress, 1857.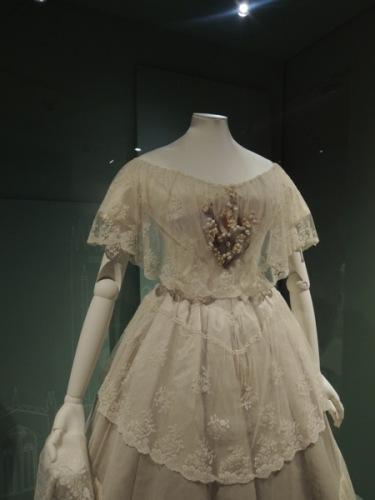 Silk and lace wedding dress, c1865.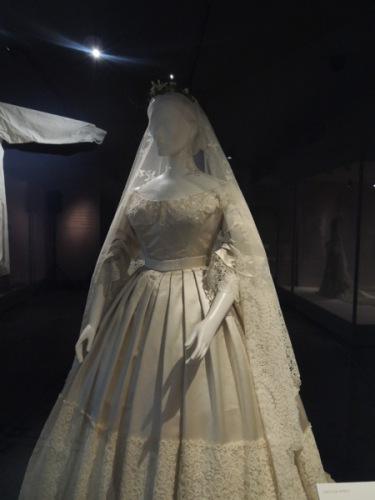 Silk satin wedding dress, 1865.
One of the most gorgeous dresses on display is the wonderful 1890 gown made by Stern Brothers of New York as a copy of a Paris model by Paquin Lalanne et Cie and destined to be worn by a wealthy American heiress marrying into the British aristocracy. Alongside it there is a wonderful pearl embellished gown from 1880 by the iconic designer, Charles Frederick Worth and it certainly serves to show why so many monied mamas bustled their engaged daughters across the Channel to Paris to get their wedding trousseaus made.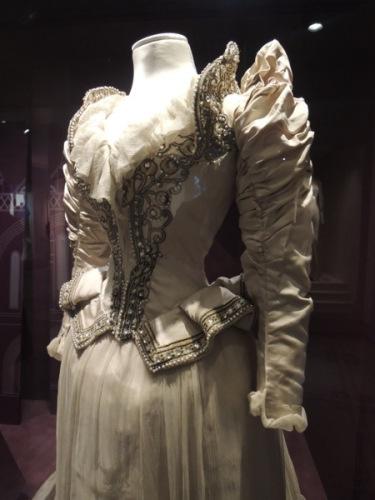 Silk wedding gown, Stern Brothers, 1890.
Initially wedding dresses were designed in the full expectation of being worn again by the bride, if only, in the case of more aristocratic damsels, for her post wedding royal presentation. In the days before off the peg fashion in department stores and boutiques, buying a new dress could be an extremely costly operation and comparatively few brides were willing to spend a fortune on something that would only be worn once, therefore dresses followed the current mode closely and would be in many cases an opportunity to introduce something more up to date to the lady's wardrobe that could be worn and enjoyed, perhaps on Sundays when the family went together to church dressed in their best, for many years to come.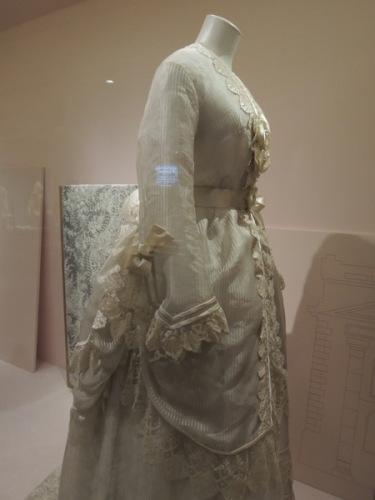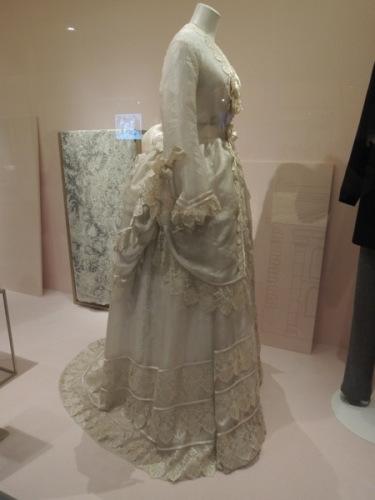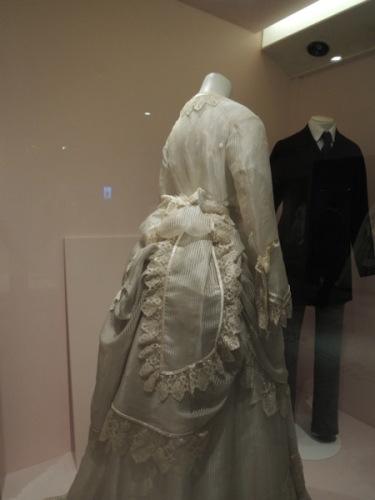 Silk gauze wedding gown, 1874.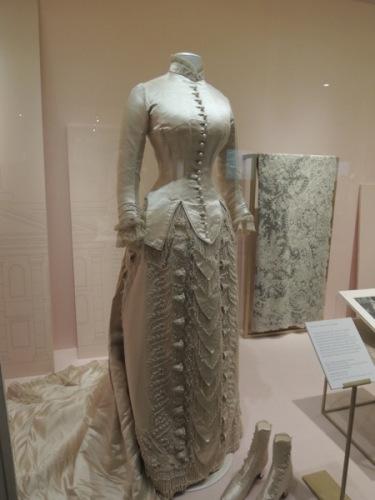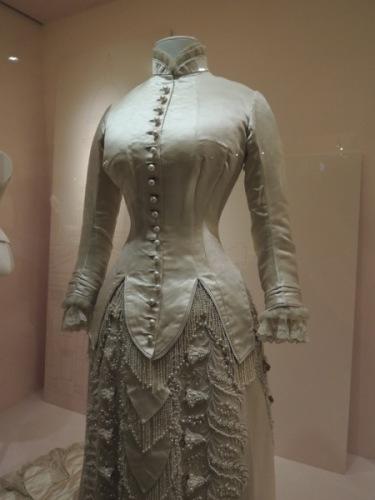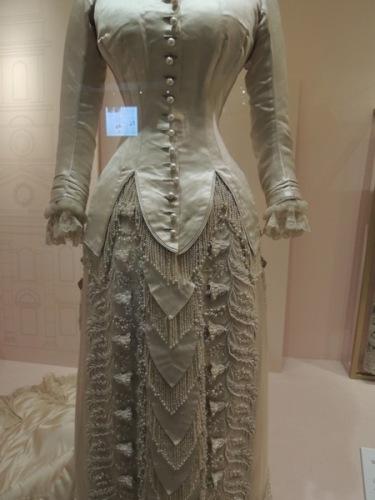 Embroidered silk wedding dress, Charles Frederick Worth, 1880.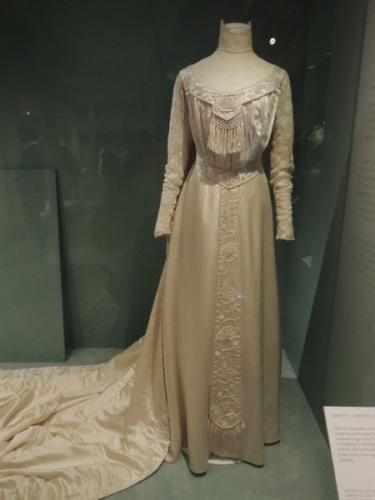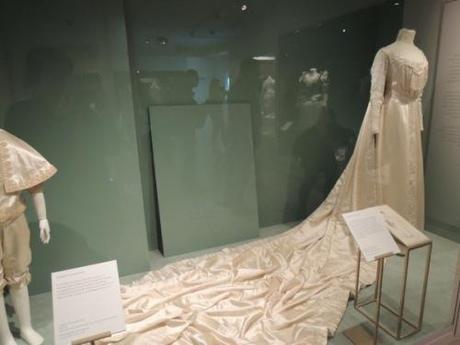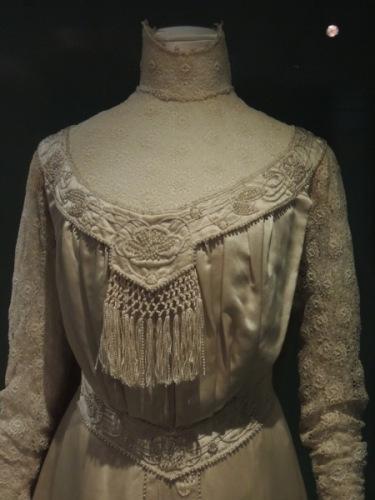 Embroidered silk satin wedding dress, Liberty and Co, 1907.

In the early decades of the twentieth century, this was carried further when wedding dresses began to be modelled less on fashionable day wear but instead closely followed the mode for evening gowns with shimmering sequins, faux pearls, festoons of gauze and, later, shimmering bias cut satin. The decidedly look was decidedly glamorous and marked the moment when wedding dresses began to move away from the current fashion but instead started to follow their own style.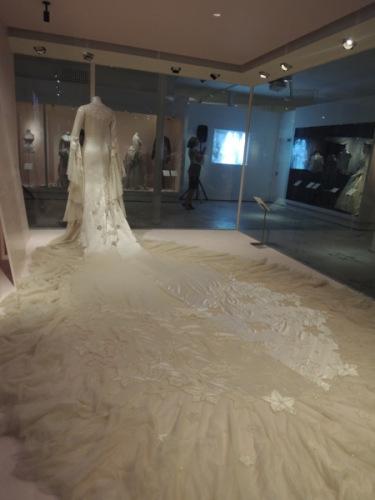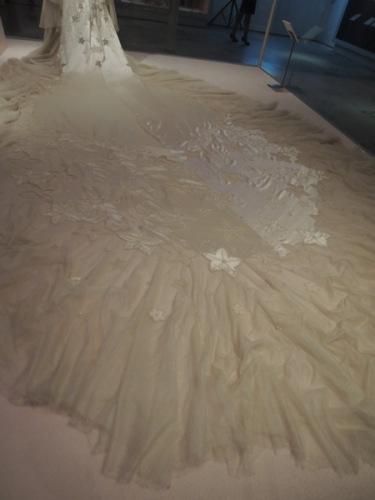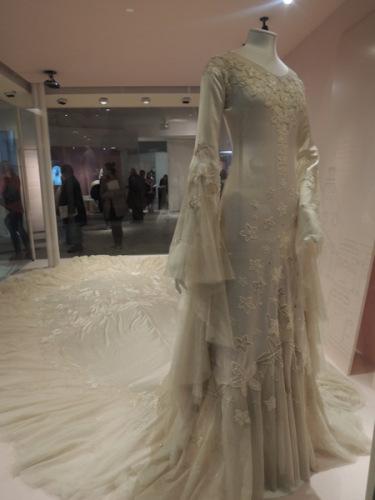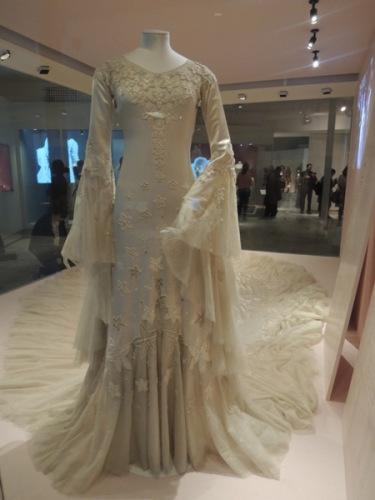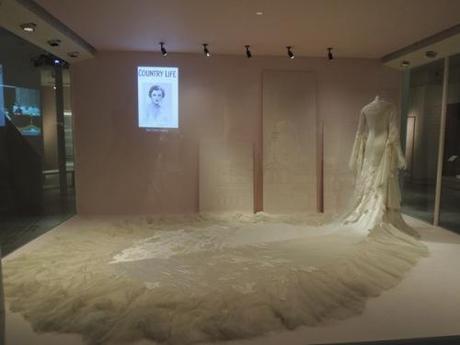 Norman Hartnell gown worn by Margaret Whigham to her wedding in 1933.
Perhaps the most stunning wedding dress of this period is that worn by high society beauty Margaret Whigham, later Duchess of Argyll, for her wedding to Charles Sweeney on the 21st of February 1933. This dreamy confection by the then young and up and coming designer Norman Hartnell, has a decidedly Medieval air with its flowing bell sleeves, slinky bias cut and relatively high neckline – it's anything but demure though. The train embroidered with the traditional orange flowers and trimmed with frothy, cloud like tulle is a masterpiece and was designed to look its most splendid best as the bride made her way down the aisle of Brompton Oratory, where she was married.
There is a decided contrast in the rather austere cut of Charles James' gown for Baba Beaton, which is displayed alongside. This dress is cut on the bias and has no fastenings, which means that it would have been slipped over the bride's head, which is really quite extraordinary considering how closely cut it is. Both of these spectacular 1930s gowns are shown alongside footage of the screaming crowds that attended the weddings, hoping for a glimpse of the bride and reflecting the consistent intertwining of celebrity culture and high profile weddings – a point where interest in a female celebrity passes into near hysteria.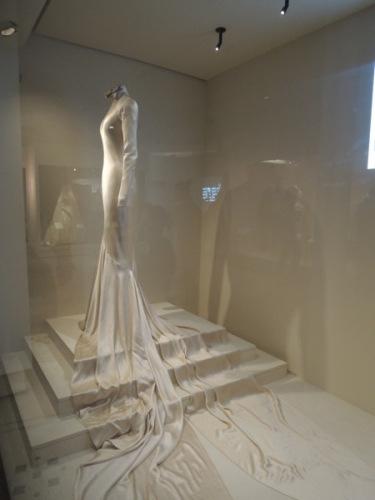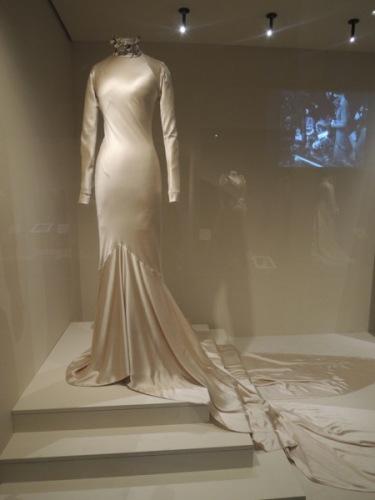 Charles James gown worn by Baba Beaton in 1934.
Of course the 1930s were to a last hurray for bridal fashion for quite some time to come as the privations and rationing of war as well as the haste with which many marriages would be conducted meant that wedding dress style became necessarily far less flamboyant, with increasing number of brides reverting back to the old habit of simply wearing their best dress or something that had much more longevity than the lovely but rather impractical gowns that their mothers might have worn. Other brides however, determined to look as 'bridal' as possible employed more artful measures and used un-rationed materials or even parachute silk for their gowns.
There are examples of wartime gowns in the exhibition, with the most striking example being that worn by florist Elizabeth King in September 1941, which is made out of the most lovely yellow detailed lightweight upholstery fabric, which, unlike ready made dresses, was not subject to rationing. I don't know – it strikes me that there is something far more romantic about this dress than most of the more flamboyant ivory extravaganzas on display – perhaps because, to me, it symbolises a more heartfelt and rather less showy demonstration of love at a really difficult and uncertain time.
It took a while for rationing to come to an end in Britain, with even the then Princess Elizabeth's 1947 wedding dress, another gorgeous Normal Hartnell design, being subject to the restrictions, which prompted generous women from all around the country to send in their own clothing coupons to contribute to the cost of Princess Elizabeth's trousseau. However, as it was illegal to give away coupons, they were all returned. Actual physical gifts of silks and lace were gratefully accepted though and probably passed on to less fortunate brides to be.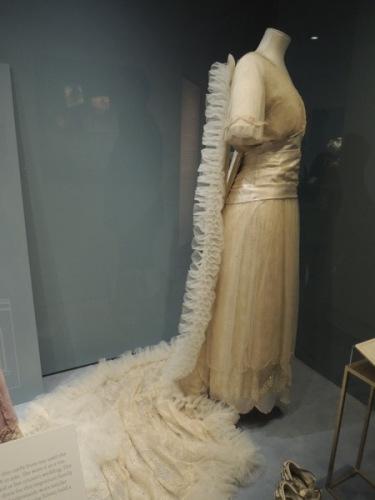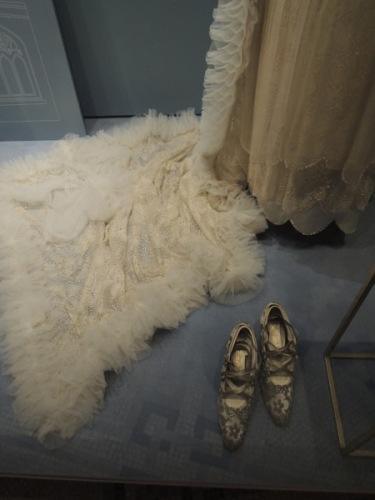 Beaded wedding dress, Aida Woolf, 1914.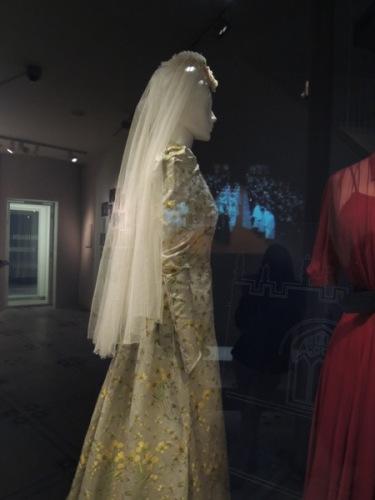 Silk wedding dress made from upholstery fabric by Ella Dolling, 1941.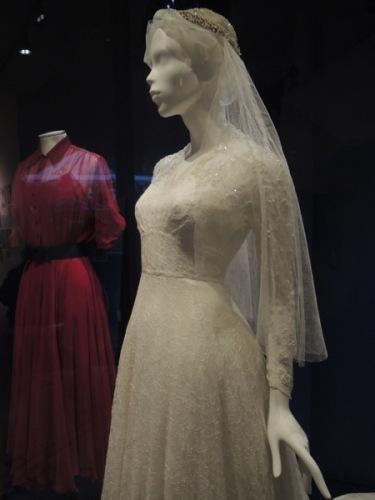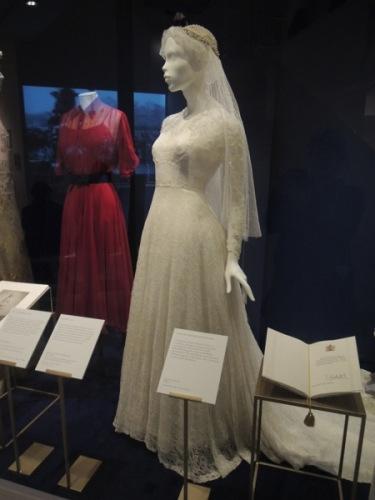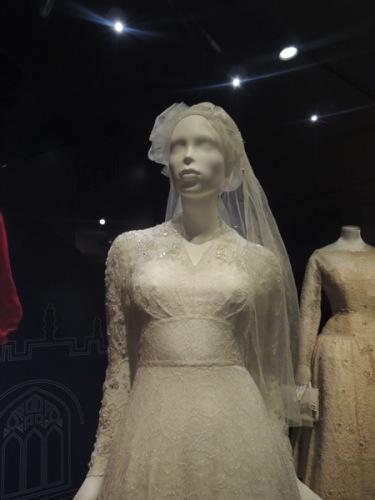 Silk and lace wedding dress, Isobel, 1953.
I was really struck by one of the gowns on display at this point – I took it at first glance to be a replica of the Duchess of Cambridge's wedding dress from 2011 (which would have tied in with the film footage projected on to the opposite wall of the balcony scenes from the 1981 and 2011 royal weddings, which were constantly surrounded by a group of smiling and often tearful women – of which, I may have been one) but then realised that actually it dated from 1953 and indeed had the close fitting bodice, lace overlay and full skirt typical of that period. This dress is apparently a new acquisition for the museum and is definitely worthy of display as a superb example of a mid 20th century wedding gown.
Of course, there are many more gowns on display on the ground floor and the visitor is taken on a chronological tour around them, while invited to enjoy the sumptuous display of soft ivory silk, sequins, pearls and lace. Margaret Whigham's gown with its extravagant train naturally dominates the scene but there are plenty more treasures on display here, each contributing its own part.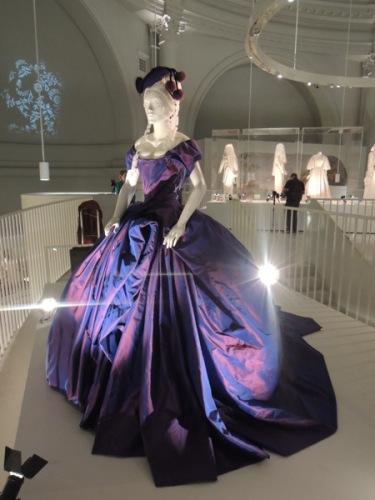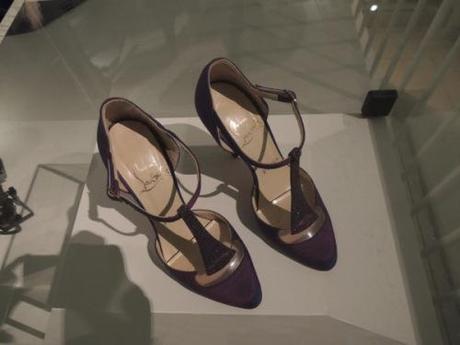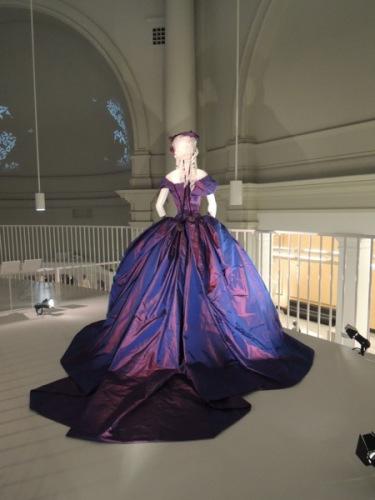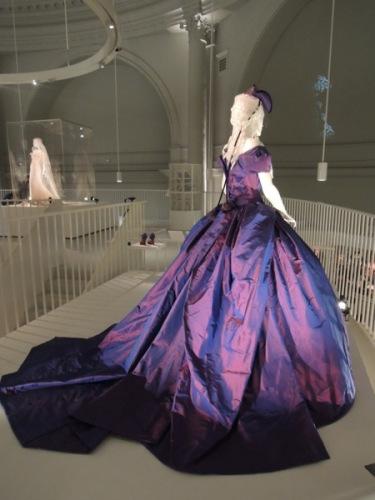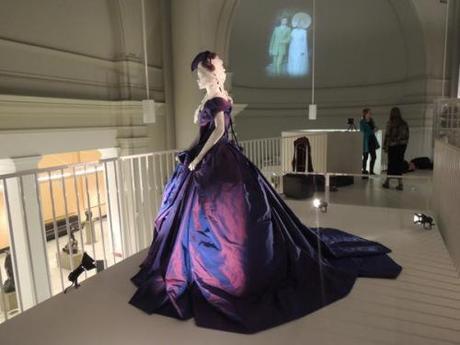 Dita von Teese's wedding dress, Vivienne Westwood, 2005.
However, beautiful though the display downstairs was, I think most people were eager to get upstairs and see the more recent dresses, including several worn by today's celebrities and it kicks off to a rousing start with the magnificently displayed purple shot taffeta gown worn by Dita von Teese when she married Marilyn Manson in 2005. As Carrie Bradshaw says about her own ill fated Vivienne Westwood wedding gown in the Sex and the City film: 'A dress so special, it could wring a wedding tear from even the most unbelieving of women.'
I didn't cry but seriously there are no words left to describe this dress, it's just perfection.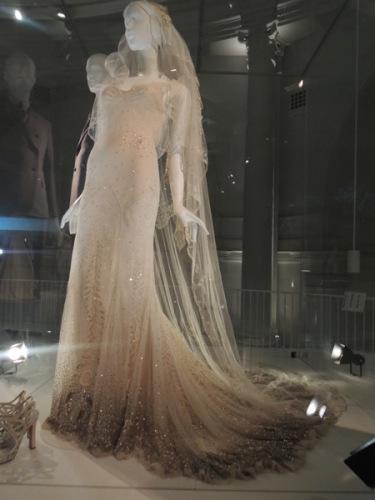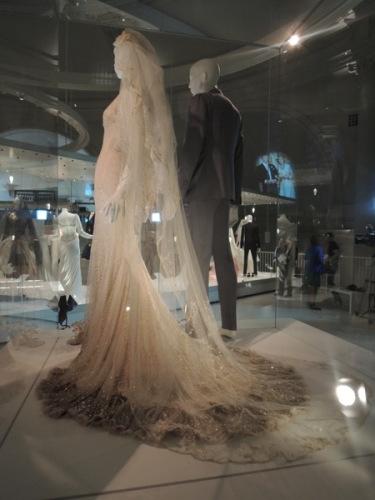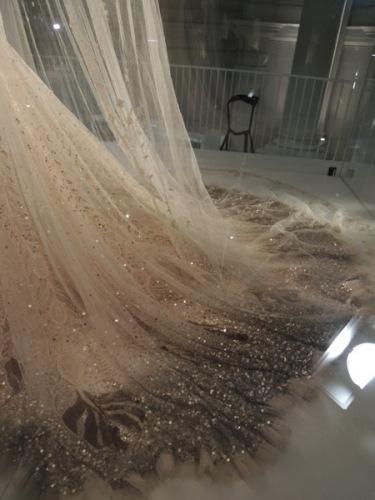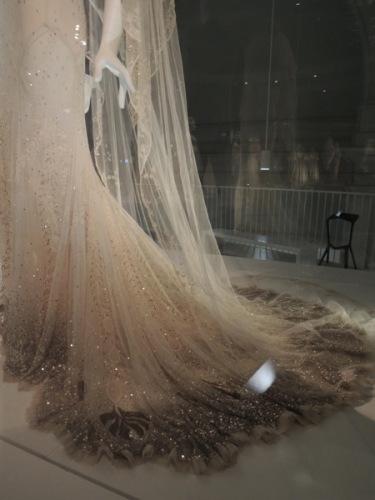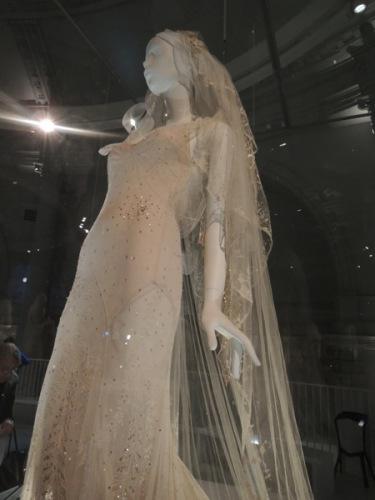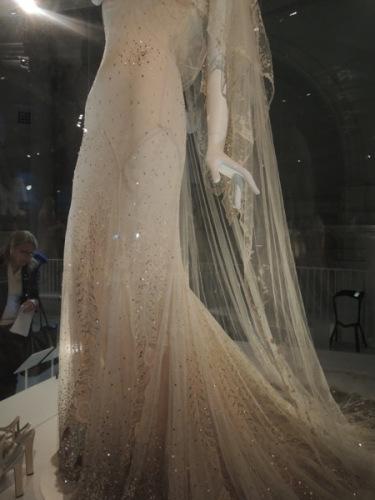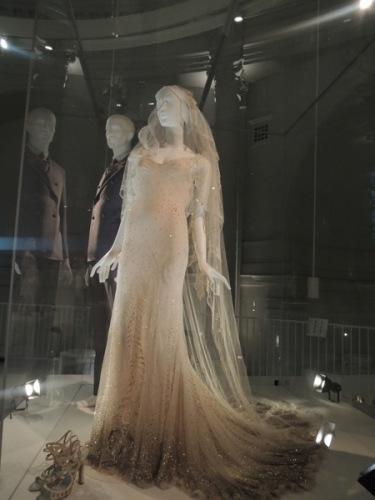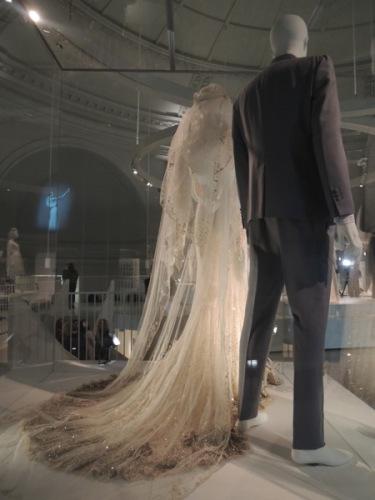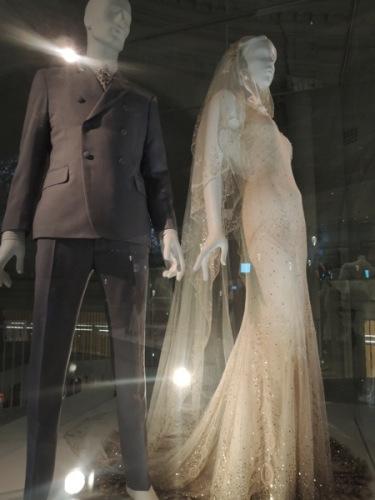 Kate Moss' wedding dress, John Galliano, 2011.
It's not my favorite celebrity wedding dress though, oh no. That honor lies with the gown worn by Kate Moss a couple of years ago, which was fortuitously on display very close by so I immediately hastened there to pay my awed respects. I'd only ever seen photographs before but seriously, nothing does the real article proper justice – it really is a masterpiece of delicate silk, lace and shimmering perfect sequins. It's a real jaw dropping dream of a dress and the one above all others that makes me wish that I could have another wedding just so that I can wear something similar. SO beautiful and so perfect for a stylish and bohemian bride like Kate Moss.
Let's just have a collective sigh for a moment before we move briskly on.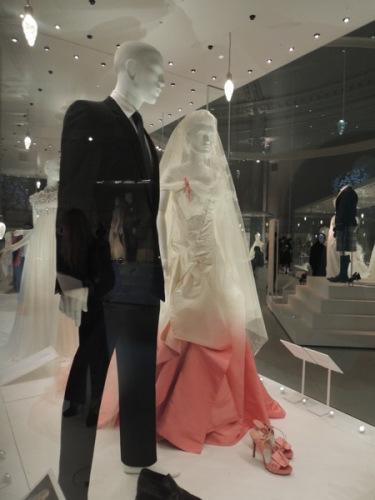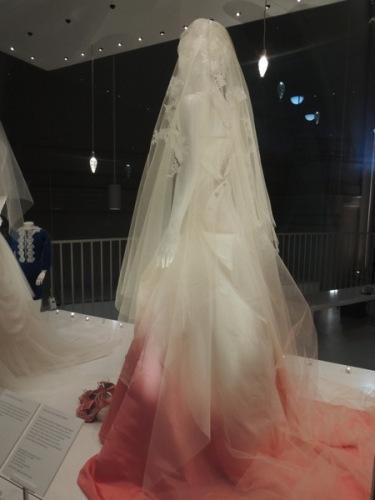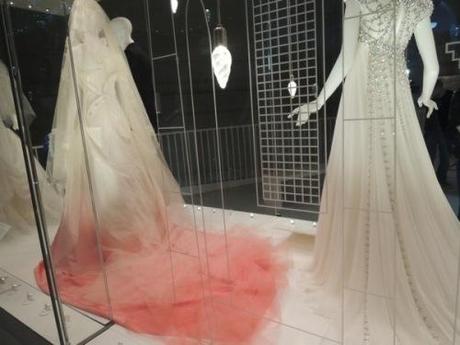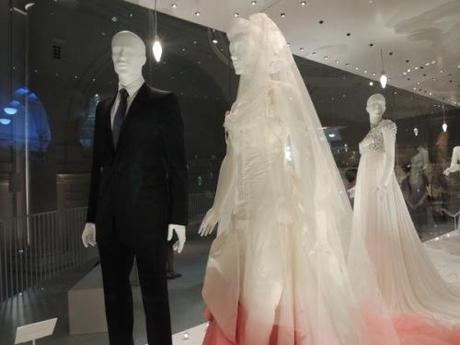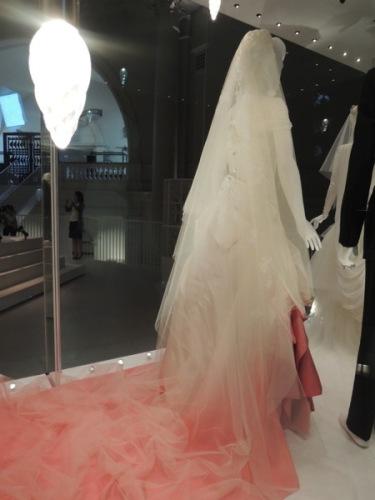 Gwen Stefani's wedding dress, John Galliano, 2002.
This mezzanine level of the exhibition takes a look at wedding fashion between 1960 and the present day, a period that has seen the wedding industry enjoy unprecedented growth and an ever increasingly high profile with some wedding dress designers achieving almost celebrity status themselves. The post war period was an exciting time for fashion, with women feeling particularly liberated from the constraints of the past and more likely to dress in an unconventional way that they felt expressed their personality. This coupled with the lack of financial constraint that had marked the war years, meant that wedding dresses in particular became increasingly flamboyant, particularly as they became more likely to only be worn for one day.
Whereas in previous generations, wedding dresses were 'best' dresses, to the more modern bride, they were to be worn once only and so didn't have to be particularly fashionable or even practical as they had no anticipated ongoing life or purpose. It's curious, I suppose that despite this freedom, certain elements of the older designs have remained constant and relatively timeless, such as the corseted bodice, the crinoline skirt, the pale colours and extra elements such as the veil, headdress and bouquet. However, as I remarked earlier, despite all of this it's still possible to discern a general trajectory in modern wedding dress fashion as even within this small microcosm of style there is constant change.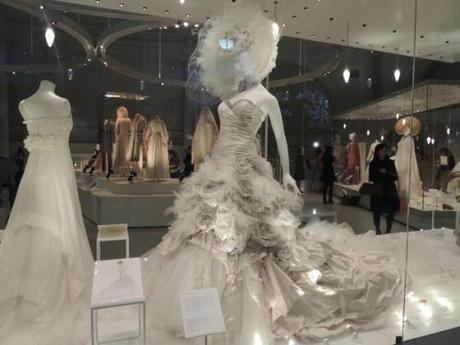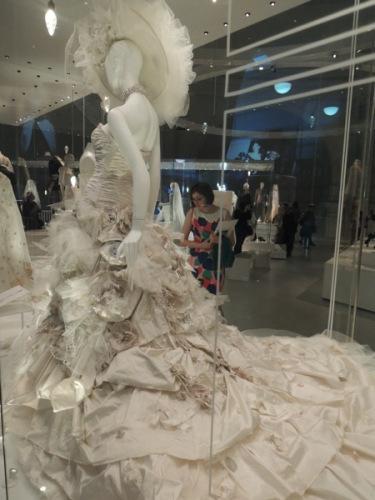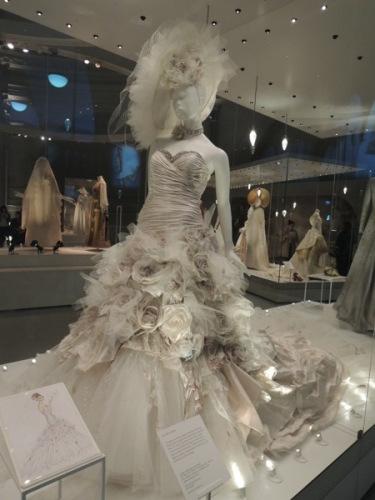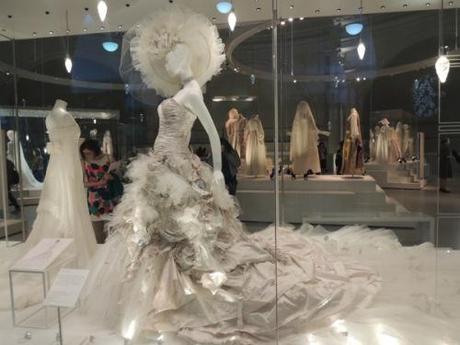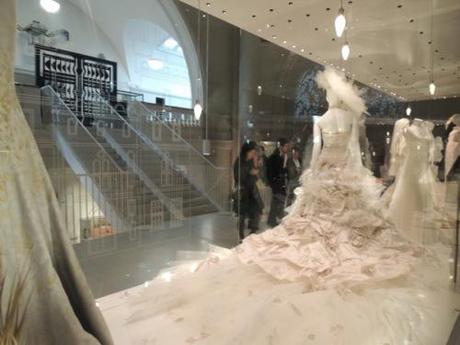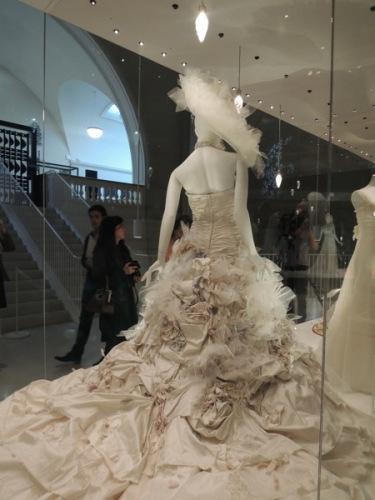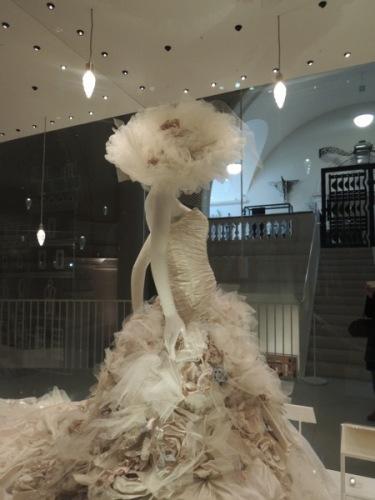 Incredible wedding dress by Ian Stuart.
The upstairs mezzanine is a riot of romance, drama and shameless, glorious and unabashed self indulgence. There are some sober touches amongst the dresses on display, like the really lovely and elegant Anna Valentine outfit worn by the Duchess of Cornwall to her wedding in 2005, which looks much more striking in person than it does in pictures, possibly because the sobriety of the cut, appropriate perhaps to the particular circumstances of this ceremony is relieved by the up close softness of the fabric and gentle drape of the train at the back.
Other dresses are much less restrained however – like the fabulously flamboyant 'flower bomb' gown by Ian Stuart, which is designed to make any bride the cynosure of all eyes as she makes her appearance. Also stunning are Gwen Stefani's amazing pink dip dye John Galliano wedding dress with its wonderful deconstructed corset bodice, which manages to completely subvert the traditional wedding dress form in the most becoming way.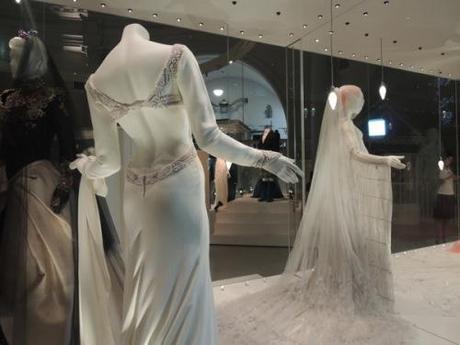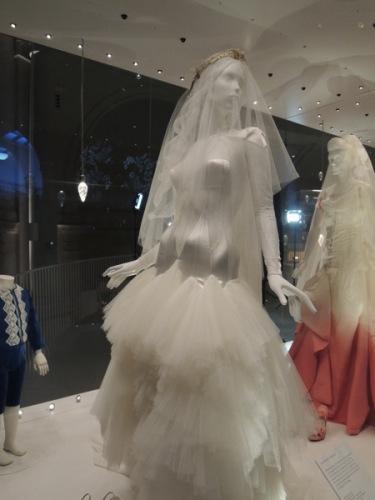 Pam Hogg wedding dress worn by Lady Mary Charteris in 2012.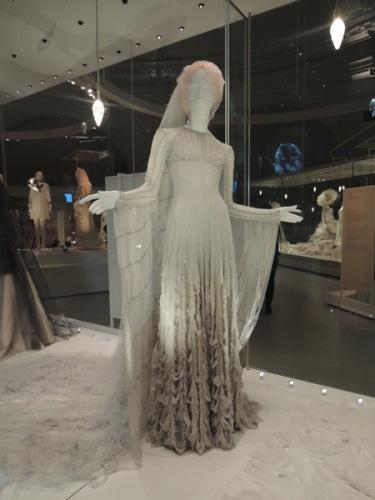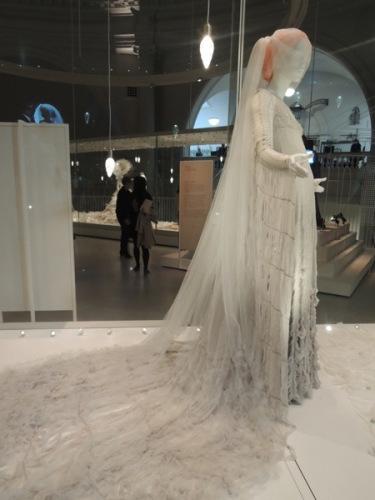 Gareth Pugh wedding dress worn by Katie Shillingford.
Also on display are offerings by Amanda Wakeley, Alice Temperley and, of course, the inimitable Vera Wang, showcasing the development of wedding fashion throughout the early years of our century, with an increasingly whimsical and figure flattering touch that has moved on tremendously from the rather demure styles that can be seen downstairs.
In contrast, there is the wonderfully austere splendour of Christian Dior's 'Who Has The Right' wedding dress of A/W 1993, which is reminiscent of the jewel encrusted gowns worn by Italian Renaissance Duchesses or perhaps the bejewelled remains of saints. There's something so sophisticated and so brutal about this design, that makes it almost the anti-wedding dress and yet all the traditional elements are there – from the bell shaped skirt to the long church appropriate sleeves to the wonderfully intricate floral embroidery on the hem of the skirt. The question it raises is defiant though – asking not just 'how has the right' to give away this woman but also who has the right to wear those pure, virginal white gowns of the past.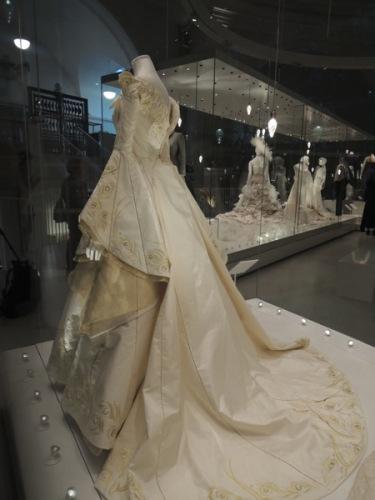 Silk embroidered wedding dress by Anna Lin Xiaojing, 2004.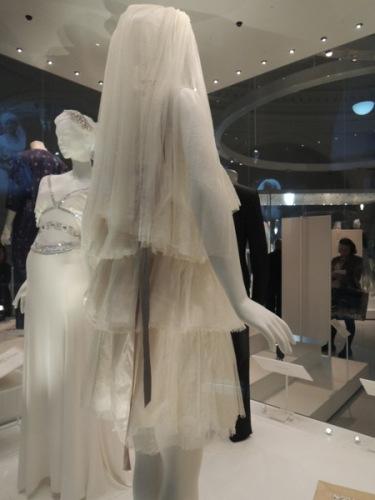 Alice Temperley wedding dress.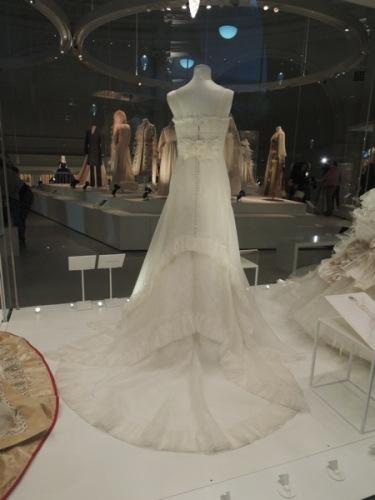 Back view of a Vera Wang wedding gown.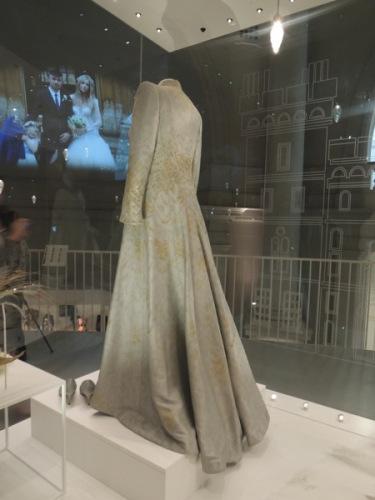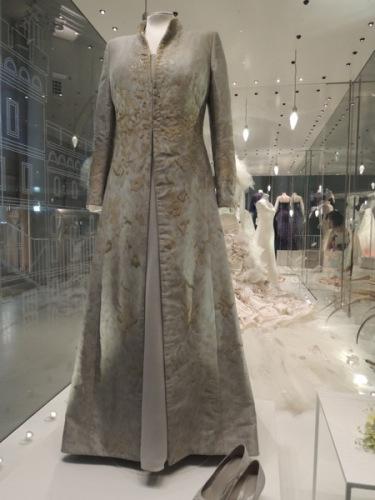 The Duchess of Cornwall's wedding outfit by Anna Valentine, 2005.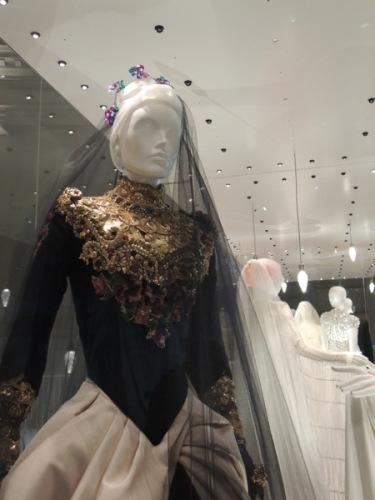 Christian Lacroix's 'Who Has The Right' wedding dress, 1993.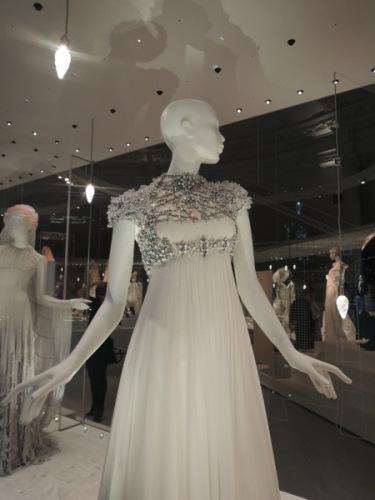 Amanda Wakeley wedding gown.
I really enjoyed my morning spent amongst the amazingly beautiful display put on by the V&A. It was truly fantastic to see in person so many dresses that I had only ever seen in photographs – especially as pale coloured gowns are always somewhat diminished in photos and really need to be seen up close to be properly appreciated. As a display of just wedding gowns this would have been superb enough but it was given an extra edge by the use of music, cinematic reels and photography, all of which combined to bring the exhibition to life.
If you are at all interested in fashion then I would definitely urge you to go and see the wedding dress display and DEFINITELY so if you are currently engaged and in need of some inspiration!
Wedding Dresses: 1775-2014 is running until the 15th of March 2015 with full price adult tickets costing £12 but there are concessions available. There's also an amazing book, The Wedding Dress: 300 Years of Bridal Fashions to go with the exhibition (which my father in law was nice enough to buy for me a while ago – thanks!), which explores wedding style even further and has some really gorgeous illustrations.
******
Set against the infamous Jack the Ripper murders of autumn 1888 and based on the author's own family history, From Whitechapel is a dark and sumptuous tale of bittersweet love, friendship, loss and redemption and is available NOW from Amazon UK and Amazon US.
'Frothy, light hearted, gorgeous. The perfect summer read.' Minette, my young adult novel of 17th century posh doom and intrigue is now 99p from Amazon UK and 99c from Amazon US. CHEAP AS CHIPS as we like to say in dear old Blighty.
Blood Sisters, my novel of posh doom and iniquity during the French Revolution is just a fiver (offer is UK only sorry!) right now! Just use the clicky box on my blog sidebar to order your copy!
Follow my blog with Bloglovin
Follow me on Instagram.
Follow me on Facebook.
Follow me on Twitter.