As I've said before, I'm a complete sucker for sentiment. Every day I wear my engagement ring, my mum's silver ring that she bought when she was a girl, the ring David bought me for my 21st, and the earrings he bought me from Italy. Until it recently broke, I also used to wear my great grandmother's ring that she brought back from Russia for my grandma (who said it was hideous, which is why I have it!). None of them 'go', they are all different metals, stones, styles… but I have to wear all of them on my wedding day! The way I see it is I am wearing a piece of jewellery from each corner of my family, and the sentiment means so much more than having everything 'matchy-matchy'.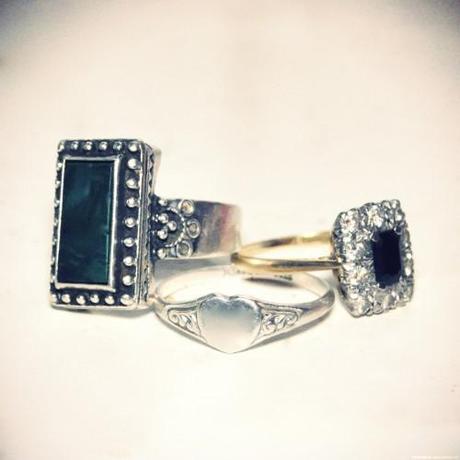 (l-r) Renee's russian ring, mum's ring and my engagement ring
I thought I'd also take this opportunity to embarrass David and tell you the full story behind my engagement ring. The ring is (like the ring he got me for my 21st) sapphire and diamond to represent Sally and David; and the diamonds surround the sapphire because, wait for the corny part, the first time I ever went round David's house, he hugged me as I left and said "Sally Thurrell I'm never going to let you go", and he said the stones on the ring were to represent that. Aw shucks! (And sorry Dav, I think you may get a bit of teasing from your mates about your romantic side!)
Finally, and the piece aside from my garter brooch which I am most excited about: my great great grandmother's necklace. Grandma has been keeping this for me all my life, as it goes to the eldest granddaughter.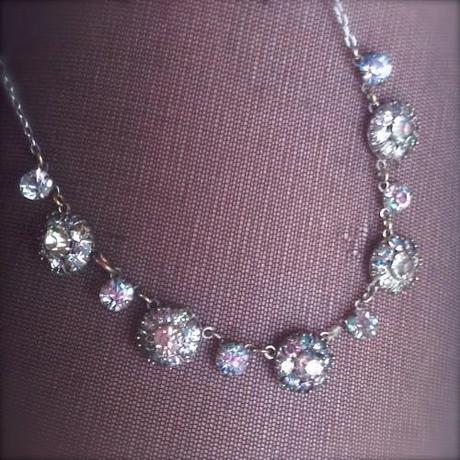 It's so, so delicate, I almost daren't touch it, but it's been carefully restored by a local jewellers ready to wear on the day. It shines different colours in different lights, I have no idea what stone it is but it's magical. I'm so excited!
Sally xx
PS Paris tomorrow! Cross your fingers that I come back in one piece!!!