I try not to use my own wedding blogs to show off my own work… but sometimes it's nice to share. As most of you will know I'm a wedding calligrapher by day, wedding blogger by night – and I love all of my work.
These wedding place cards in blue are a little example of my day to day work. I write calligraphy for around 80 weddings per year (and about the same number of wedding anniversary gifts) – and the work varies from addressing envelopes in calligraphy to writing place cards, designing seating plans and luggage tags, even bespoke handwritten menus and special commissions.
Wedding place cards – blue calligraphy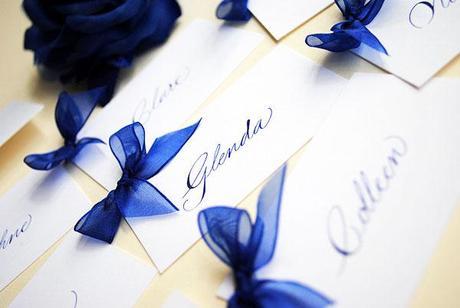 These place cards are handwritten in a blue ink. Wedding calligraphy is wonderfully varied work, and it's great to write in bright and rich colours – I offer color matching for brides and grooms who want everything to match.
More wedding calligraphy galleries
You can see more of my wedding calligraphy on my new website at www.Calligraphy-for-Weddings.com. There's more I could show you in my wedding calligraphy galleries on flickr too – feel free to have a nosey around. I've just set up a board on Pinterest with my favorite recent calligraphy photos as well – I hope you love what you see!