Saturday saw myself and Daniel driving at the slowest speeds legally we could manage all the way down to beautiful sunny green cobham in kent. We had a 6 sectioned cake over 3 tiers sitting comfortably in our refridgerated unit.Every gentle brake at the lights had our shoulders by our ears, I wanted to run over the hooded teenager who ran in front of our van for his ball without checking but alas Daniel did not agree and with some gentle braking we managed to save child and cake, Dan your the hero. We arrived safely with our load and with enough time to peruse the beautiful scenery and grounds of cobham hall, gorgeous.But I'm getting ahead of myself here, let me show you how we got to the end point. Firstly we took some sponges, 6 of them in total and cut them in half so now we have 12 delicious slices of vanilla sponge laying organised around the kitchen. Next we filled it with bitter chocolate butter cream and studded the whole lots with whole fresh blackberries.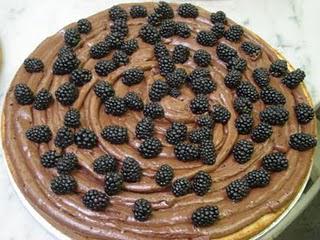 Then anna got to have lots of fun squishing the blackberries into place.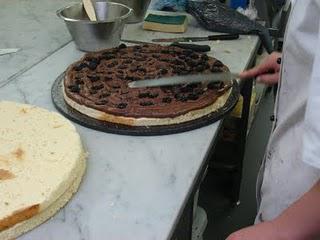 Once we replaced all the lids we had a row of deliciousness ready for butter creaming, dowl setting and coverpasting.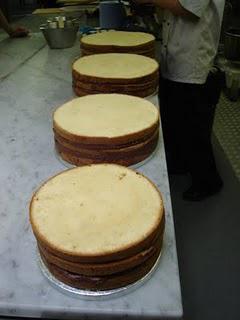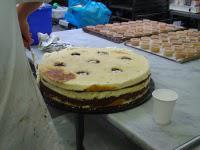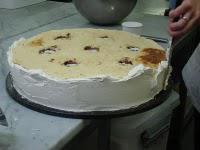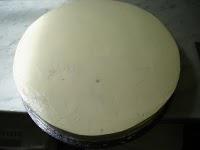 So then came the hard part. The biggest fault involved in baking is nothing can be done really untill the day before, freshness being the key to all good cakes. So poor anna was surrounded by florists, myself daniel and vincenzo Friday while she sat patiently and piped the dot design details on all 6 cakes. Her hand was claw shaped and in serious need of rest by the end of the 5 hour stint of sitting and piping, piping and sitting. Honestly she couldn't stop once she started the poor girl. It was also interesting putting the florals together as you had Daniels vision being brought to life by a man and a pair of saccuteurs whilst Vincenzo watched hawk like over every touch of the cake. Here are the pictures that prove the chaos.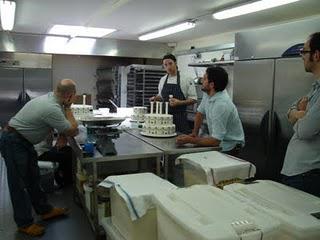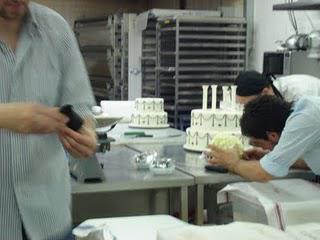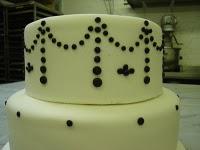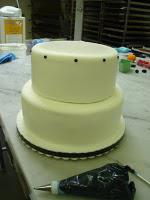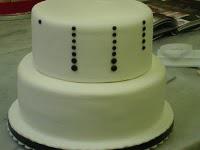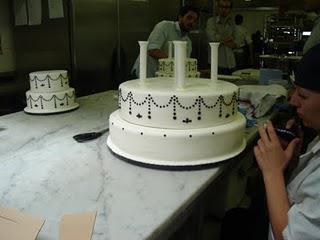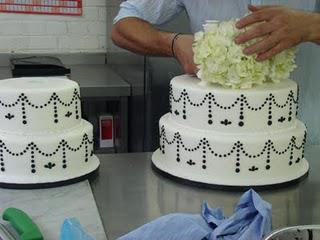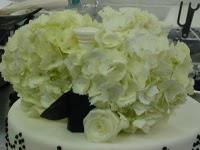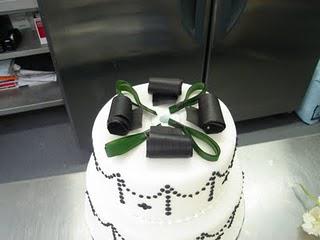 But when the end product looks this good good the hard work gets forgotten about!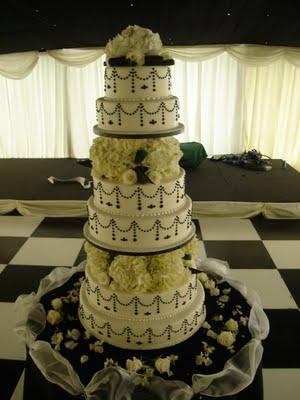 Hope you enjoyed todays blog thanks for taking a look.Nicola Quigley

[email protected]