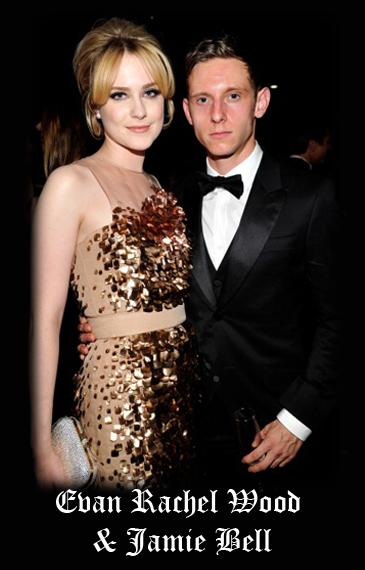 Newlywed Evan Rachel Wood and Jamie Bell were spotted at Los Angeles International Airport flaunting matching gold wedding bands.
Yet another celebrity couple managed to avoid the shutterbugs and had a hush-hush wedding. 'True Blood' actress Evan Rachel Wood and 'Billy Elliot' star Jamie Bell got married on Tuesday, Oct. 30 in California in a small ceremony with only close family and friends in attendance.
The rep of 25-year old actress confirmed the news, "Evan Rachel Wood and Jamie Bell were married on October 30 in California."
"The bride wore a custom dress by Carolina Herrera," the actress' spokeswoman added in the statement. "It was a small ceremony with close family and friends."
The designer also confirmed the news and said, "I am so happy for Evan, she is a timeless beauty and her gown in Chantilly lace captures this perfectly."
The coy couple, Evan Rachel Wood and Jamie Bell, were spotted on Monday at the LAX, flashing matching gold wedding bands.
'The Wrestler' actress posted on her Twitter page on Wednesday: "Words cannot describe the happiness I am feeling. Overwhelmed."
The upcoming nuptial speculation were off in the air when Wood and Bell, 26, applied for their marriage license earlier in October.
"Evan and Jamie were at the Beverly Hills City marriage license office around lunchtime today," an onlooker said in his statement.
"They were just waiting in line like regular people, holding hands and at one point Jamie leaned over and kissed Evan – they certainly looked excited and happy."
The newlywed couple, who have tattoos of each other's initials, are allegedly engaged since January this year and Jamie was spotted shopping for wedding rings last December, though the couple never confirmed their relationship.
Evan Rachel Wood and Briton beau Jamie Bell first met seven years ago in 2005 when co-starring in Green Day's music video for 'Wake Me Up When September Ends'. After dating for a year, the couple called off their relation.
Since their split, Wood went on to have a highly publicized romance with Marilyn Manson since 2006. Though she got engaged to the rocker in 2010, the same year Wood called off the wedding plans. The on-off couple rekindled their relationship in 2011 and had a highly publicized engagement to shock her ex-beau, who is almost twice her age. This is the first wedding for Wood and Bell.
Congrats Evan Rachel Wood and Jamie Bell! Wishing you all the best!
Also Read : Levi Johnston to Marry Girlfriend Sunny Oglesby over the Weekend