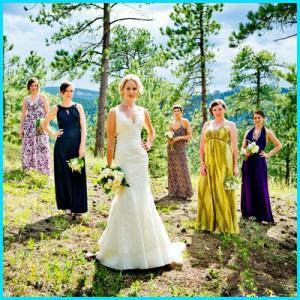 When talking about bridesmaids trends 2014 ample of transformations have been seen, new styles introduced, and trendy designs have been crafted.While bridal gowns have evolved tremendously over the last few seasons, designers have also brought about various new chic and fashion forward creations for the bridesmaids dresses. Some of the latest style additions this year also include the change in color palettes, asymmetrical necklines, and intricate back details. We have listed below few of the trends that will probably be flooding the minds of brides for their bridesmaids throughout the year.
What Color To Choose…With A Line-Up Of Diverse Tones, Shades, And Hues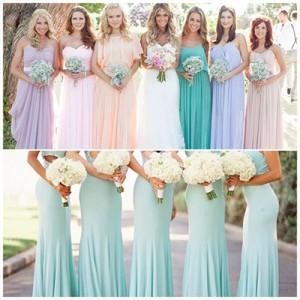 Pastels- Just the ideal color palette for a wistful spring or summertime soiree, as well as a beach and tropical affair, pastel shades have been making their own mark in the wedding fashion world since the past few seasons. Long flowy gowns and pretty flower bouquets look absolutely divine up at the altar.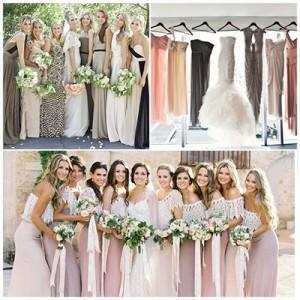 Neutral Perfection- Less is more, the most appropriate phrase that comes to mind when one thinks of neutral colors. Whether it is nude skin tone shades or blush, these light shades look absolutely dreamy for a wedding when teamed up with glittery gold or bronze tints.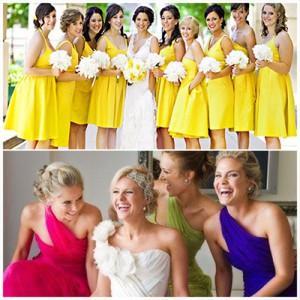 Bright Vibrant Colors- While pastels and neutrals shades have already made their mark, bright bold colors are going to be major a change this year. Bright Purple and shades of Blue along with the Pantone color of the year Radiant Orchid are forecasted to be very popular colors this wedding season.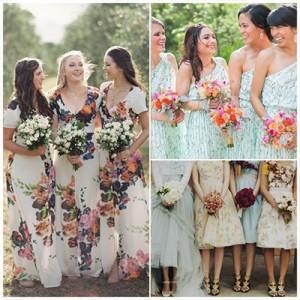 Picture Perfect Prints
Absolutely full of fun, prints are a simple way for adding effortless style and feminity to your bridal party.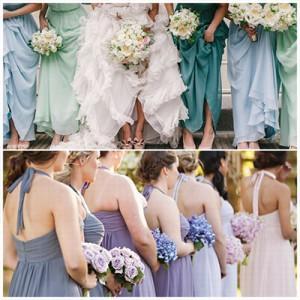 Ombre
From ombre dresses to hair, this color trend has taken the entire beauty and fashion market by a storm. With its effortlessly chic and simple look, ombre gowns in bright or subtle shades are an ideal choice for the warm summer climate.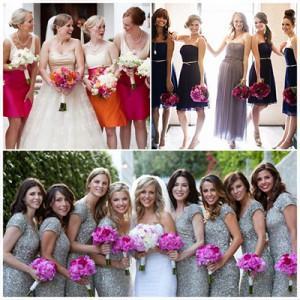 Make a Bold Statement With A Pop Of Color
Certain colors like beige, black, and navy blue are classic and extremely elegant color choices at a wedding. However, when there is a hint of a bright color added to the look, it's beyond fabulous and chic.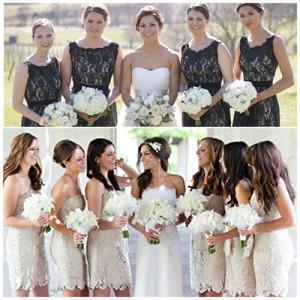 Add a Hint of Grace with Lace
Lace has constantly been one of the top choices for bridal gowns and bridesmaids dresses. Classic and timeless, one cannot go wrong when it comes to choosing a divine lace for their wedding.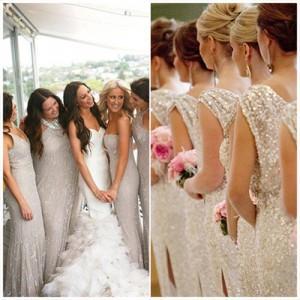 A Dash Of Sparkle
Previously bridesmaids dresses were often very simple and somber, but now we see more and more brides adding a bit of sequined glam to their bridal entourage. Whether it is in the form of a tiny belt or the entire gown, sequins are a perfect choice for a formal and glamorous affair.
Get an Enigmatic Effect With Contouring Silhouettes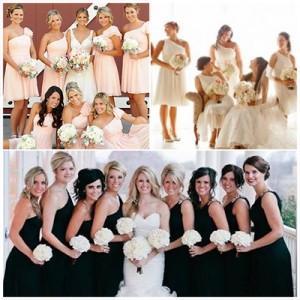 Impressive One Shoulder Dresses- A universally accepted fabulous trend in the wedding seasons is the one shouldered dress. Brides have constantly stumbled over the decision of choosing between this trend and a halter neck and have often picked up the asymmetrical neckline over the halter.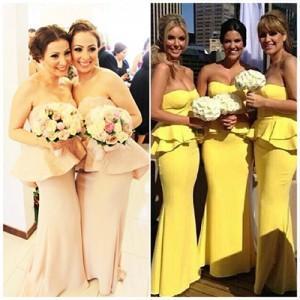 Figure Flattering Peplum- Yet another trend that made a big mark on the wedding runway last year and will definitely be seen this year as well. Peplums are an exceptionally striking figure flattering look that go well with any given body type.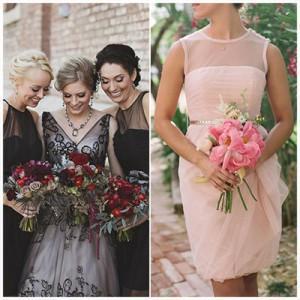 In-Vogue Illusion Necklines- Another popular trend for bridal gowns, now making its way into bridesmaids dresses are illusion necklines. They give just the right amount of sexy chic look to the dresses without making the girls feel conscious about the strapless necklines.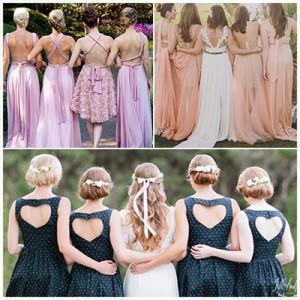 Intricate Back Details
Bridal designers are shifting their focus on the back details of both bridal and bridesmaids dresses which look absolutely stunning and fabulous. Show off the excellent shapes and intricate designs of the back by pairing it up with a chic up-do hairstyle. Some of the ongoing trends are the keyhole shape, illusion, and portrait cut backs.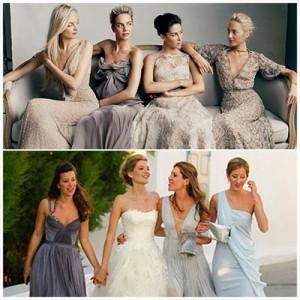 Mismatched Dresses
whether it be one pattern in different colors or one color in different patterns and fabrics, the combining of different dress styles looks very appealing up at the altar and the girls will love having the option to have a style of dress that suits their body and personality.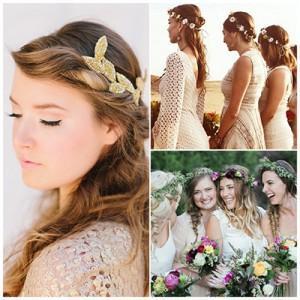 Delicate Floral Headbands
 Accessories are a very important factor for the bridal party. The most common of them being the flower bouquets, poses, and hand corsages. Another well known trend that has a subtle almost ethereal feel to it is the floral wreaths and hair bands which are a premier chose for a bohemian style wedding.
Choosing the right dresses, accessories, and jewelry for your bridesmaids is a notoriously tricky task and we hope we could be of some assistance to make it a tad bit easier for you.