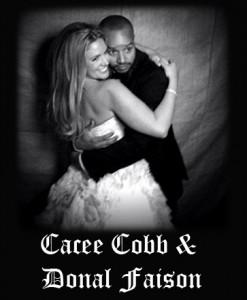 cacee cobb & Donal Faison
Scrubs star Donald Faison & Texas native Cacee Cob are the newlyweds this Christmas season. The wedding took place at a private house on Saturday in Los Angeles. Cobb looked stunning in a white ball gown. The duo were said to be dating for six long years & were bonded into engagement for almost a year.
Jessica Simpson, 32, who is reportedly pregnant , was Cacee's maid of honor, flaunting her curvier figure, adorning a full-length black dress & carrying a bouquet of red roses. She was escorted down the aisle, by groomsman, Zach Braff in the ceremony. Other guests included Ashlee Simpson, Seth Green, Faison's Scrub costar Sarah Chalke & Clueless costars Breckin Meyer, Elisa Donovan & Stacy Dash.
According to the sources, Cacee aspired a Southern-style backyard wedding. "She wanted it to feel down-home", explained Paige Appel of Bash. Cacee & Donald recited the personal vows & also incorporated the tradition of  " Jumping the broom" into the ceremony & also had a gospel choir perform their favorite songs. An emotional, Appel expressed his views of Cacee being like his third daughter & was a blessing for the Simpson family.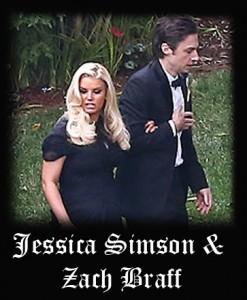 Jessica simson & Zach Braff
Cacee serves the role of casting the patroness of Jessica Simpson's baby girl Maxwell, also will be of assistance for the second one. This is said to be first marriage for Cobb & the second for Faison, who has three children with ex-wife Lisa Askey , & one son from a previous relationship.
Sounds like a night hilarious of sentiment & fun !! Congrats to the newlyweds !!
Also Read : Unification of heart- Wedding.