McLaren Closer to the Front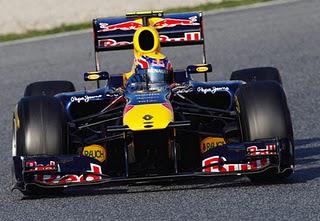 Mark Webber Fastest in Barcelona on 8 March
In  absence of the great rivals Ferrari and Mercedes, who will join in on Wednesday, Mark Webber set the fastest time on  the first day of the final pre-season testing in Barcelona with 1:22.544. So already on day one Webber was 0.081 seconds quicker than the fastest man overall throughout the last testing at the Barcelona circuit about two weeks ago, Felipe Massa.
McLaren seem to have improved as Jenson Button in a short stint set a time of 1:22.910, which secured him second place, only 0.366 seconds  behind Webber.
For a short moment before the end of the day it even seemed as if Sergio Perez had set the fastest time by more than a second, but eventually it became apparent that he had cut a chicane. Because of a cold, Nick Heidfeld was unable to continue testing, so Vitaly Petrov took over for the afternoon session.
Tomorrow Ferrari, Mercedes, Williams
and Hispania
 (Hispania will not be testing before Friday afternoon) will start their final days of testing. It will be interesting to see how the Ferrari performs in comparison to the Red Bull and also whether Mercedes has something up its sleeve. Also Williams showed promising performance in the tests in February, can they continue where they left off?
Tuesday's final results:
Pos.DriverNat.TeamTimeGapLaps
1Mark WebberAustralianRed Bull1:22.54497
2Jenson ButtonBritishMcLaren1:22.910+0.36674
3Vitaly PetrovRussianLotus Renault1:22.937+0.39327
4Sergio PerezMexicanSauber1:24.117+1.57390
5Nick HeidfeldGermanLotus Renault1:24.735+2.19120
6Paul di RestaScottishForce India1:25.039+2.49538
7Davide ValsecchiItalianTeam Lotus1:25.406+2.86250
8Sebastien BuemiSwissToro Rosso1:26.004+3.46048
9Nico H체lkenbergGermanForce India1:26.030+3.48631
10Luiz RaziaBrazilianTeam Lotus1:26.723+4.17929
11Jerome D'AmbrosioBelgianVirgin1:32.060+9.51657