It's the freakin' weekend people – and not just any weekend, OSCARS WEEKEND! This is like the Super Bowl of fashion, if the Super Bowl was fabulous and catty and dramatic. The whole awards season leads up to Oscar, when everyone who's anyone (and those who wish they were) report back to the mother ship at Dolby Theater, worshiping at the shrine of Brange Oscar. It's go time people, so today's round up is a tad Academy Awards centric, with a few other newsworthy links tossed in for funsies. Be sure to follow @bling_blog and @raymondleejwlrs on Twitter to stay caught up on all the red carpet sparkle. As per usual, RLJ will try to maintain some semblance of professionalism while D&D will be the safe haven for my more Veuve-induced commentary. Or until Twitter freezes either account for too much activity (#haters). If you wear super cute pajamas with a tiara or a gown or anything inspired by any of the nominated films PLEASE tweet me or DM me on insta (@raymondleejwlrs) because you're adorable and much more creative than I am.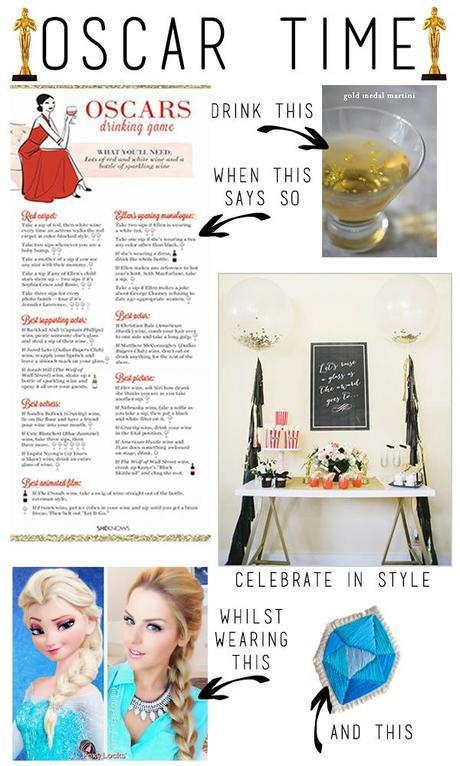 Mila Kunis and Ashton Kutcher are finally "officially" engaged. Per Lainey's curriculum, this is a calculated move of the press-shy couple to announce on OSCAH weekend.
Ditto Alison Williams, but not sure what her endgame was announcing this week. Maybe so more reporters will ask on Sunday?
True Life: I'm an Oscars Seat Filler
If you weren't planning on popping one of these into one of these, this Gold Medal Martini might wet your whistle. Yes, Sochi is so last week, but there is edible gold star confetti, so think about that.
Speaking of which, here's when we should drink.
Gorgeous Oscar viewing Party Inspiration.
How I'm wearing my hair and makeup to some friends' Oscar Party (very appropriate for Chicago weather).
Gem Pins. For those of us who never received a call back from Lorraine as to what we're borrowing Sunday night.
Miranda Kerr for H&M has arrived. I'm torn. On one hand I like her, but those stupid ShopStyle commercials annoy me to no end. And while I have a few dresses and hats from H&M that have survived the last 3 years, the vast majority of their stuff looks like it was washed in a combined color laundry load until everything turned greige. And it also looks like it will fall apart. But then there's this, and my personal fast fashion embargo starts to waiver.
And from around the Jewelry Blogosphere: A few of this week's best musings, looks back, and PREDICTIONS! Be sure to follow along for all the fun, the glitterati will be using #OscarJewelry as the designated hashtag!
The Evolution of Glamour on The Red Carpet
The Best Oscar Jewelry of All Time
Predictions (which has me wondering why we don't see more JB Star on the carpet?)