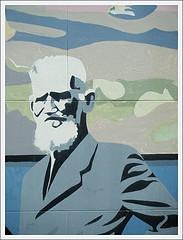 George Bernard Shaw, London [210309] (Photo credit: danielweiresq)
"Use your health, even to the point of wearing it out. That is what it is for. Spend all you have before you die; and do not outlive yourself."
He also said this about the subject of health,
"The sound body is the product of the sound mind."
It was not surprising to me that many of the quotes I read talked about the health of both the body and mind – how they are intertwined – they are – we are – exercise both!
You Create Your Day by the way You Think! Be Present!
Go make it a Magnificent Day!
Blessings, Shawna