Perqs, re-creations and the Metropolitan Opera season that was.
by Paul J. Pelkonen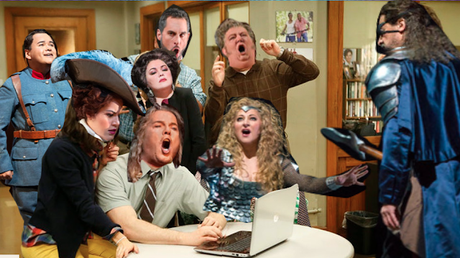 Yes, this is a parody of Parks & Recreation starring (l.-r.) Javier Cammarena, Federica Lombardi
Stefan Vinke, Anna Netrebko, Kyle Ketelsen, Christine Goerge, Ambrogio Maestri and Greer Grimsley.
Original image © NBC, opera singers © The Metropolitan Opera, photoshop by the author.
Another Metropolitan Opera season is in the books, and the hard-working singers, actors, dancers, musicians, stagehands and army of support that makes up America's largest opera company is on their way to Pawnee, Indiana for some much deserved recreation at America's biggest Harvest Festival. So this year, let's call the awards the "Little Sebastians" and celebrate by awarding tiny statues of small horses, so small that you can't even see them on the Internet.
Or something.
Anyway, Here's the awards for the Met season-that-was.
Presenting: the Little Sebastians!
Best New Production: Adriana Lecouvereur
"Adriana is only revived when a star diva decides to take on the steep challenges of the title role. On New Year's Eve 2018, the Metropolitan Opera and Anna Netrebko unveiled their new Adriana in a handsome, traditional production by Sir David McVicar that surrounded the Russian soprano with an all-star cast. Set entirely on a unit stage with a rotating theater-within-a-theater, Sir David solved some of the scenic challenges of this work and did it in a coherent and well-managed manner, just as he has done with so many operas at the Met in this decade."
Best Revival: Don Giovanni
"In the classic Bill Murray comedy Groundhog Day, a caddish weatherman is trapped in a small Pennsylvania town in midwinter. He is forced to relive the same events over and over until (as the trailer says) "he finally gets it right." A similar redemption came last night for the Metropolitan Opera's first Don Giovanni this season, presented in a 2012 staging by  Michael Grandage. This was the fifty-first performance of this well-worn show. Last night, it finally roared to comic life."
Best Leading Man: Ambrogio Maestri in Falstaff>
"It's not just the costumes, the mannerism and the singing. It's how Mr. Maestri puts all those elements together to create a portrait of boundless energy, unquenchable thirst and a love for life and the simple pleasures that makes Plump Jack a memorable figure. Also, great Falstaffs (and he is one) must have a tinge of melancholy laced through all the rolling belly laughs, and that quality is present too particularly in short moments like "Va, vecchio John.""
Best Leading Lady: Christine Goerke as Brunnhilde in Die Walküre...
From her first series of "Hojotohos", Ms. Goerke sang with fire and guts. She added the trills to her battle cries, thrilling the audience, and then won them over with her bright stage presence and inrtense energy. She shared a real emotional bond with Greer Grimsley's Wotan, acting not just as his foil but showing through gesture, look and glance all of the depths of the character even when not singing.
...and Siegfried
"from her awakening forward, she simply dominated the opera, singing the tender passages ("Ewig war ich") with the same wide-eyed innocence that she brought to the role in Die Walküre. This was an involved and sensitive portrayal, with the soprano rising admirably in this short but challenging part."
Best Bad Guy: Christian van Horne as Mefistofele in Mefistofele
"Against this, the devil entered, mincing in a long red tailcoat and a pair of dance shoes, a defiant figure against the order of things and yet part of them in the opera's cosmology. This sulfuric interloper was played by Christian Van Horn, a young bass from just up the Hudson River. He took on the challenging title role with a dark, grainy instrument and sharp, funny stage presence."
Best Bad Girl: Elza van den Heever in La Clemenza di Tito
"
Ms. van den Heever gave a stunning performance as Vitellia, author of the conspiracy against Titus and a role that gets more dramatically over-the-top with each of her succeeding arias. Whoever coined the phrase "the higher and louder you sing, the crazier your character is" may have been talking about this particular role.
"
Worst New Production: La Traviata
"Mr. Mayer chose to set Traviata in a stylized 1851 Paris, the year of the opera's premiere. The result, despite a proliferation of 1890s mutton-chopper dresses and shifting jewel tones, is in many ways very similar to what went before. The clock is gone, replaced by a double bed that spends four incongruous acts in the middle of the raked stage. (The bed is present throughout. Is its message that Violetta is always "open for business"?)."
Worst Revival: Iolanta/Duke Bluebeard's Castle
"The only light comes from projections (the designer is Bartek Macias) which appear to liberal effect on black surfaces, curtains and scrims. to create the tangled forest around Iolanta's lonely dwelling, and the even more forbidding landscapes inside Bluebeard's house. Thorny thickets, gloomy torture chambers and a seemingly infinite elevator shaft dominate the action. This last forces the soloists to sing from a platform high above stage left, creating an odd and disturbing balance of sound with the orchestra."
If you enjoyed this article, it's time to click over to 
Superconductor's Patreon page
, and help support the cost of independent music journalism in New York City at the low cost of just $5/month.