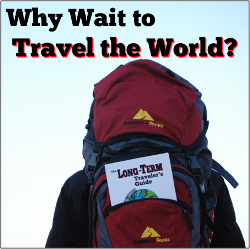 Another great weekend trip is upon us, and this time we are headed to a place I've personally never been to before - New York City!
Like our recent honeymoon in Spain we want you to be traveling just like we are!  To help out, we are having a brief weekend sale of our first book The Long-Term Traveler's Guide.   For the next 5 days, the guide's Kindle edition will be approximately 25% off at the price of $7 per copy!
But don't wait, this copy will only be available for just a few days at this discounted price as when we return from traveling on Monday so to shall the sale end.
We have tons of adventures lined up for our brief weekend trip to New York, and you can expect the updates to begin when we return home Monday night!