A Playlist for the Apocalypse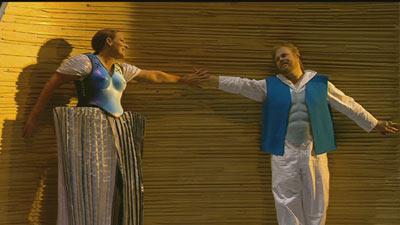 At Bayreuth, meeting the end of the world requires ridonkulous pants.
Deborah Polaski as Brünnhilde, Wolfgang Schmidt as Siegfried in Götterdämmerung.
Photo © 1998 Bayreuth Festival/Deutsche Grammophon.
In case you've been keeping up with the media (aside from
Superconductor
) the world is supposed to end tomorrow evening in a giant earthquake--or something. According to Bible number-cruncher Richard Camping, a bunch of people are going to be taken from Earth in the Rapture. The rest of us will enjoy listening to really good music without hearing those people's cell phones ring during piano recitals. Anyway, here's ten works to check out as we all prepare to check out.
10) Wagner: Götterdämmerung (the whole frickin' thing.)
We might as well start off this soundtrack to the apocalpyse with the final opera from Wagner's
Ring
cycle, which ends with a Germanic vision of the end of the world. Something about a cursed ring thrown into a river, a collapsing castle and 24 giant moving planks on a computer-controlled system just spells doomsday. The Solti recording from 1962 (made in Vienna with Birgit Nilsson and Wolfgang Windgassen) has been the benchmark for half a century.
9) Bruckner: Symphony No. 8 (Apocalyptic)
Anton Bruckner's final completed symphony consists of huge slab-like chords of brass and strings, piled in an ever-reaching stairway to heaven as the composer grapples with the infinite. He spent so much time grappling with the Eighth that he never finished the even more ambitious Ninth--a lesson for us all.
8) Berlioz: Requiem
Tremendous orchestral and choral forces are required for Hector Berlioz' setting of the Latin Mass of the Dead. The
Tuba Mirum
(Last Trumpet) is announced by four offstage brass bands and twelve thundering kettledrums-definitely the soundtrack to some kind of 19th century apocalypse. The message: "God is coming! Look busy!" Colin Davis made two recordings: the first one is the one on my shelf.
7) Beethoven: Symphony No. 3 "Eroica"
The best funeral march ever written stands at the center of Beethoven's first long-form symphony. There are two dozen recordings in the standard catalogue, and another twenty or so that have been deleted by record companies preparing for the end of the world, or their industry as they know it. I like Claudio Abbado's second live recording with the Berlin forces.
6) Verdi: Falstaff
I thought about the
Requiem
here but a) I already picked the Berlioz piece and b) we all need to lighten up already. Verdi's Shakespearean comedy (and last opera) ends with a gorgeous fugue on the words "All the world's a joke." Not a bad way to go out.
5) Mozart: Idomeneo
If you're looking for an apocalyptic scenario, the prospect of being destroyed by a gigantic sea monster must appeal. Japan's genre of
kaiju
movies might have been inspired by this Mozart
opera seria
, where a Greek king runs afoul of the god Neptune and nearly gets stomped on by a giant, unspecified aquatic beast. Music's good too. I like James Levine's recording with the Metropolitan Opera forces and Placido Domingo as the king in deep water.
4) Mahler: Symphony No. 2 Resurrection
Gustav Mahler added a soloist and a chorus to this five-movement opus, which starts with a funeral march and ends with the dead busting out of their graves. Not quite a zombie apocalypse. The second Bernstein recording featuring the New York Philharmonic is a classic.
3) Shostakovich: Symphony No. 14
Part symphony and part song cycle, Shostakovich's penultimate symphony is a setting of 11 poems about death, written for two singers, a chamber orchestra and an unusual percussion section. Try Bernard Haitink's recording with the Royal Concertgebouw Orchestra.
2) Messiaen: L'ascension
Just as the Rapture might send people running through the streets, Messiaen's music with its bird-songs and apocalyptic chords can send listeners running from the concert hall. "The Ascension", a 27-minute piece in four movements meditating on the resurrection of Jesus, is one of his more accomodating compositions. Also worthy: the
Quartet For the End of Time
, written in the chaos of World War II when the composer was held in the German Stalag-VIII-A prison camp.
1) Strauss: Tod und Verklärung
When Richard Strauss finally died, he commented that the experience was exactly as he had written it in this 22-minute tone poem, composed in his early period. (The title means
Death and Transfiguration
.) Herbert von Karajan's excellent recording with the Berlin Philharmonic is recommended as your guide to the world beyond.