The following is taken from
South Beach Diet: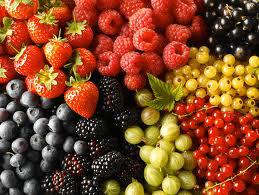 "
Fresh strawberries, blueberries, raspberries, and blackberries are some of summer's sweetest natural treats. On the South Beach Diet, you can enjoy these fiber-rich berries on Phase 2 and beyond. Berries may be small fruits, but they pack a big punch; they are a delicious source of disease-fighting antioxidants and nutrients, including vitamin C, fiber, folate, and potassium. Whether you like them in your salads, smoothies, desserts, soups, or drinks, these jewel-like fruits are so versatile they can be enjoyed in a variety of ways.
Berry Basics
At the grocery store or farmers' market, choose dry, plump, and brightly colored berries with no obvious rotten spots. Avoid containers with juice stains—this is a sign that the berries either have been battered or are overripe. Also be on the lookout for moldy spots—mold travels like wildfire through berries, so avoid containers with signs of this blue-gray blight. After you've brought home your berries, store them unwashed in the refrigerator in a covered container until you are ready to eat them.
Preserving Berries
Because fresh berries don't last long, they are best used within a few days of purchase. If you would like to preserve berries for a longer period of time, consider freezing them (they can be stored in the freezer for up to four months). To freeze berries, just spread them out in a single layer on a cookie tray and freeze them until the fruit is solid. Then pack the frozen berries into resealable bags with a label indicating the date and what's in the bag.
Prepare an Energizing Berry Smoothie
Tired of your usual eggs and toast or oatmeal for breakfast? Take a break from your traditional morning meals and prepare a healthy berry smoothie. Whip one up in a blender using fat-free or low-fat milk, low-fat unsweetened soymilk, or unsweetened almond milk. Add your choice of berries along with some nonfat, plain Greek yogurt or silken tofu for an extra boost of lean protein. Then add sugar substitute and vanilla or almond extract to enhance the flavors. For an extra-healthy twist, toss in some nuts or ground flax or chia seeds.
Begin the Day with a Berry Parfait
Yogurt parfaits make an excellent breakfast option on the South Beach Diet because they're easy to prepare and travel well when you're on the go. Enjoy a yogurt-and-berry parfait, alternating layers of nonfat or low-fat plain Greek yogurt with fresh berries, slivered almonds, and sugar substitute if desired. Sprinkle with ground cinnamon or nutmeg for a boost of flavor.
Spice Up Your Salads with Berries
Looking to liven up your salads? Berries instantly add the taste of summer. Because berries are naturally sweet, they are not only great puréed as a base for vinaigrettes, they also make excellent salad toppings. Try grilling strawberries or blackberries on a clean grill topper over low heat. Then add the warm berries to a salad of grilled chicken served over romaine lettuce, mesclun, or spinach.
Concoct a Berrylicious Sparkler
As the temperature rises and you spend more time outdoors, you'll want to cool down with a refreshing drink. Skip the sugary soft drinks and fruit juices, and prepare a fun and flavorful nonalcoholic sparkler, using your favorite berry, lime juice, seltzer, and ice cubes. Try different fruit combinations like raspberries and grapes or strawberries and orange slices. Add a little fresh mint and sugar substitute, if desired.
Liven Up Your Meals With a Berry Salsa
There's no better way to brighten up your meals than with a colorful, flavorful salsa, a nutrient-dense condiment that adds a kick to grilled chicken, fish, shrimp, pork, or beef. A berry salsa can be easily prepared at home with whatever's fresh in your fridge. Try a strawberry-avocado salsa, using diced strawberries, diced avocado, chopped tomatoes, chopped fresh cilantro, lime juice, lime zest, and seeded and finely diced jalapeño pepper to taste. Or make a blueberry-strawberry salsa using whole blueberries, diced strawberries, some chopped red onion, lime juice and lime zest, and chopped fresh mint.
Delight in Dessert
Who says you can't indulge in dark chocolate-covered strawberries once in awhile? On the South Beach Diet, dessert can be enjoyed in moderation, and on Phase 2, berries are one of the healthiest dessert options. Melt one ounce of bittersweet or semisweet dark chocolate in the microwave for dipping strawberries or other berries of your choice."