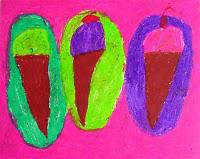 Wayne Theibaud is famous for his paintings of cafeteria-style food. His art often spoke to the repetition of pies and cakes, so having students create multiple ice cream cones is a fun way to play with that idea.
1. Give the students a 9" x 12" paper, and with a horizontal layout, show them how to draw in pencil one simple cone in the center, and then another on either side.

2. Have each student trace all pencil lines with a thin black marker.

3. Distribute oil pastels to color all the cones and background. The thicker and brighter the better!