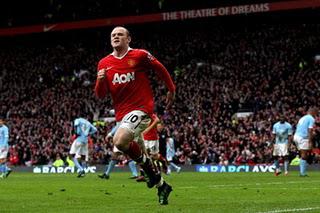 Is Rooney finally at peace with himself?
Watching Manchester City this season, they've grown on me. They aren't the most likeable of clubs, yet somehow they have an amiable feel about them.
Maybe it's because they make everything more interesting, with their big spending accompanied by big aspirations. At least, that's what they were supposed to do this weekend. They were supposed to make the Premier League a little more interesting in this Manchester derby, with many fans willing Roberto Mancini's side to dish Manchester United their second defeat of the season.
While Manchester City went to Old Trafford with a relatively attacking mentality, it was Manchester United which claimed the Manchester derby. While Manchester United won, Manchester City were probably the more convincing of the two sides, with a historic goal winning the game for Manchester United.
In the first minutes, Manchester City created some great chances, with the Old Trafford crowd holding its breath too often for their tastes. United held out well, and before halftime they found the lead. Nani was quickly played through the City defence, and Pablo Zabaleta let the winger slip by and finish past Joe Hart. This first goal can almost be wholly attributed to Zabaleta's poor positioning and defending. The left-back didn't come back to form a rigid defensive line, instead he left a hole for Manchester United to exploit. From there, he gave Nani a free run towards goal, not covering Manchester United's Portuguese star.
The first half came to a close with a dominant Manchester City held back by poor incisiveness in front of goal and a defensive lapse of concentration.
In the second half, Manchester United are barely competent, doing their best to hold off Manchester City's constant forward pushing. Carlos Tevez, David Silva, Yaya Toure, and surprisingly, Micah Richards, were all fantastic in combining to create chances. The 22 year-old full-back was solid offensively and defensively, always first to the ball and covering the right flank with endless running.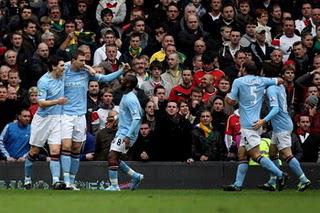 In the 65th minute Manchester City's efforts are repaid with a goal. Subsitute Shaun Wright-Phillips crossing low from the right wing for Edin Dzeko in the middle. The Bosnian shoots towards the right hand post, but the shot deflects off David Silva's back, leaving Van der Sar to watch the ball spiral into the left side of his net.
After the equalizer, Manchester City realize that they could win the derby with a bit more persistence. Mancini's side puts Manchester United under heavy pressure, forcing Van der Sar to make an outstanding save and Vidic to make some breathtaking interventions.
Yet somehow, this unconvincing Manchester United found the winner. Manchester United widened the field, giving the ball to Nani who crosses a high looping ball towards the middle of the box. Rooney has a bit of space around him, and produces a magnificent overhead kick, with the ball flying into the top right corner. Certainly a contender for "Goal of the Season", and the goal could easily win the 2011 FIFA Puskas award.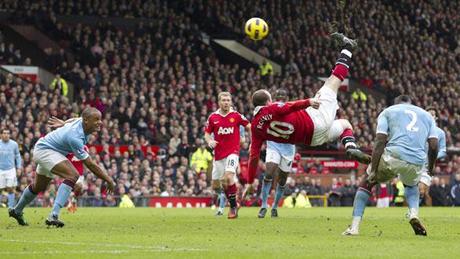 Wayne Rooney's spectacular winner
With this 2-1 victory, Manchester United overcome last weekend's loss to Wolves with a historic derby win. This unconvincing Manchester United side has been saved by Wayne Rooney and his fantastic goal. Roberto Mancini has admitted that Manchester City is out of the title race, and that Rooney's goal was fantastic. Yet the Citizens deserved more from this Manchester derby. What do you think? Share your comments below!