Welcome to binNotes! Did you know that March is Washington State Wine Month?
Follow  binNotes:    Facebook   |   Twitter   |   Pinterest
by L. M. Archer, FWS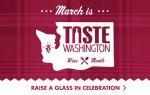 March is Washington State Wine Month.
" data-orig-size="560,353" data-image-title="WAWineMoLogo" data-orig-file="http://binnotes.files.wordpress.com/2014/02/wawinemologo.jpg" aperture="aperture" />
I know – binNotes is all about Burgundy. But, she also lives in Washington State.
Thanks to my sister, a vineyard manager in Eastern Washington, and to my friend Janet, mother of assistant wine maker at LongShadows, for shaming me into my burgeoning appreciation for all things Washington wine. No greater kick-off than Washington Wine Month…
…Have a favorite Washington State Wine you'd care to share with the rest of tribe binNotes?
Leave it in the comments section below – cheers!
Copyrighted 2012-2014. All Rights Reserved.
Follow  binNotes:    Facebook   |   Twitter   |   Pinterest
Filed under: Washington State Wineries, Washington Wines, Wine Tasting Tagged: washington state wine, Washington state wine month, wine