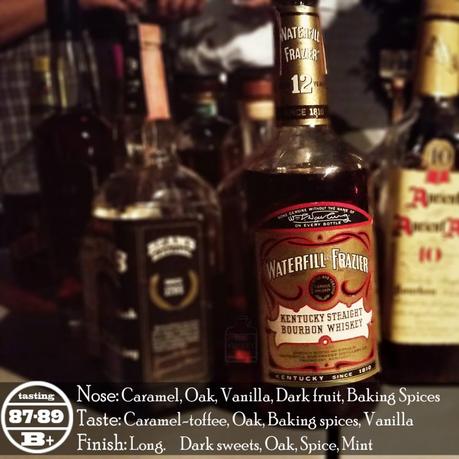 Waterfill And Frazier 12 Years Bourbon is a dusty bourbon from the mid 70s that stems from a brand that's been around since at least 1810. One of the most interesting things about this brand is that during prohibition it was distilled in Mexico and then smuggled back into America. The company's owner, Mary Dowling, had no intention of allowing the US Government to shutter her business so to quench a thirsty public she and Joseph L. Beam dismantled the Waterfill & Frazier and moved it to Juarez, Mexico.
In 1933 they built a new Waterfill & Frazier in Frankfort, KY and whiskey was distilled at that site until it was converted into a bottling hall in 1966. According to the label this whiskey was bottled in Frankfort, but that doesn't mean the whiskey inside came from the 33-66 Waterfill & Frazier distillery.
The Dowling company owned a second distillery in Anchorage, KY and the whiskey in these bottles could have easily, and is more likely to have, come from there. One last interesting tidbit of info before we jump to the Waterfill And Frazier 12 Years Bourbon review is that the same Joseph L. Beam who went to Mexico is the same JLB that started Heaven Hill after prohibition. What an interesting time in American History.
Waterfill And Frazier 12 Years Bourbon Info
Region: Kentucky, USA
Distiller: Waterfill & Frazier 
Mashbill: At least 51% Corn, <49% Rye and Malted Barley
Cask: New Charred Oak
Age: 12 years
ABV: 40%
Price: N/A – Dusty
Waterfill And Frazier 12 Years Bourbon Review
EYE
Caramel
NOSE
Caramel, oak, vanilla, dark fruit, baking spices and a touch of nuts. A basic, but robust – solid – bourbon nose. Delightful.
PALATE
A caramel-toffee hybrid rolls out first followed by oak, baking spices, vanilla, dark fruit, nuts and a touch of mint. Like the nose it's not amazingly complex, but damn it's good. This is what a good sipping bourbon should be.
FINISH
Long and darkly sweet with bits of oak, spice and mint.
BALANCE, BODY & FEEL
Nice balance, medium body and a round smooth feel.
OVERALL
Waterfill And Frazier 12 Years Bourbon is a solid example of a good bourbon. It's about as classic of an execution as you can get and if I had access to this everyday I'd be a happy camper. It's one of the dusties I wish I could still find peeking its head out from behind current bottles of Jack Daniels and Jim Beam White, but alas it's long gone. These days bottles, especially of this quality, are in the hands of collectors, high-end specialty shops and auctioneers.
SCORE: 87-89/100 (B+, not consumed at home)