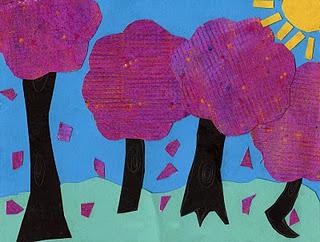 I used to think that only watercolor paper could bring about bright and colorful watercolor paintings. This collage was made with just white card stock paper for the leaves. The difference was using good liquid watercolor paints, like the Dick Blick Student brand you can find online. Scrapbook paper for the background was also key – construction paper just doesn't have the same quality.

SESSION ONE: The students started with a letter-size 65 lb. white card stock paper, and placed it over a sheet of plastic needlepoint mesh. They shaded the entire paper with about 3 or four different crayon colors. The students painted over the entire paper with slightly watered-down Dick Blick liquid watercolor paints and let it dry.
SESSION TWO: My scrapbook collection of paper had a variety of blues and greens. After choosing a background blue paper, the students were to cut a wavy strip of green for their grass, and several tree trunks out of black paper. All were glued down in place with a glue stick. After the trees were complete, scraps of the watercolor paper were used to cut and glue small "leaves" that were falling down.