Wow it has been a long time since I have done one of these little tutorials/ paint alongs. Yesterday I thought I would paint up a little girl. I had no real person in mind, I just started with a basic line drawing getting her perspectives down and picking out my pallett of hmmm.... lets see... quin gold, perm red and cobalt blue, opera and i will toss a little burnt umber in at the end.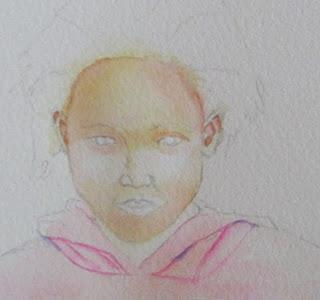 Lets start by wetting her face and dropping in some color to get a base of where we want to go with this. At this point I will be working with only my yellow and red remember to work around your lights.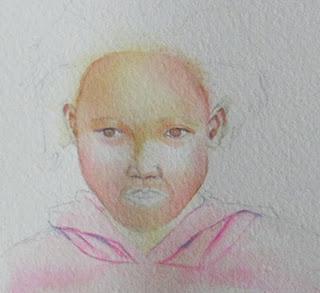 Still working wet in wet and building up light layers of my yellow and reds all the time thinking about where the sun will hit her face. You will see I added just a dab of burnt umber to place the eyes. Dont forget to leave the highlights.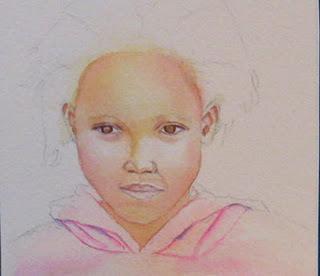 Continue building up your layers of sunshine, but now it is time to start thinking about how and where your facial structures recede. The eye sockets and sides of the nose the dip under her bottom lip the hollows of the cheeks and dont forget her temples. We can start adding our shadows into her layers. Work light!!! You can always add paint but it is Really hard to take it away.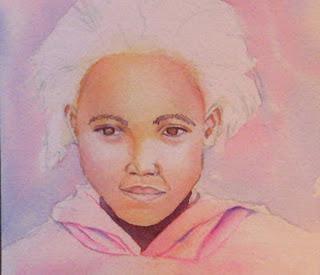 I wanted to get in my darks at this point, so I had to first pop in some background of perm red and cobalt. This will not be the final layer I juts needed something for her hair to sit on.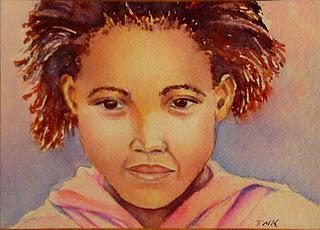 Mix up some powerful mixes of Yellow, Red, Blue and Umber. She is backlit so remember to leave a couple wispy lights around her head working in some sunshine and then into your red and blues for your really darks. The umber I used is just enough to tone down a few areas but not enough to give an overall color. Remember if your values are correct it doesnt matter what colors you use. You will have to go back in at this point to make some final tweeks, but at this point Im going to call her done. 2.5 * 3.5 inch Hope you enjoyed this mini demoSOLD