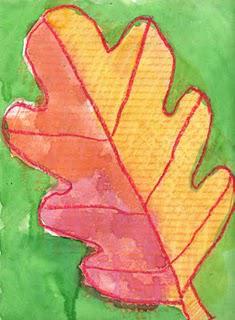 This is so simple but really makes a beautiful image.


1. Cut corrugated cardboard into rectangles that are at least as large as your drawing paper. Students start by drawing large leaf shape on on white paper, and then tracing with a crayon. Vein lines are important as they allow separation of colors.
3. To create the texture, the students put the corregated cardboard under their paper (bumpy side up) and rub inside their leaf with the side of a peeled crayon. Encourage the use of warm colors, just like most fall leaves.
4. Pass out warm watercolors (red, yellow, orange) which may be painted over all of the inside leaf, including the crayon rubbing.
5. Pass out cool watercolors (blue, green and purple) for the students to paint in the entire background as they please.