November 29 – December 1
J and I bought tickets to watch the grand final of the Rugby League World Cup; which was being held at probably the most famous football club, Manchester United's stomping grounds; Old Trafford. And after Australia beat Fiji, we were going to see Australia vs. the reigning Rugby League world leaders; New Zealand. And we were visiting an English city that both J and I had never been to. It was a fabulous weekend.Friday nightWe hopped on a train from Waverly Station in Edinburgh after J and I had both finished work for the week. Not much of an interesting train ride apart from hearing these Mongolian guys and a Scottish guy shouting in excitement, when something happened during their poker game that was being played right in middle of the walkway. We arrived at Piccadilly Station at around 11:30pm and ended up getting a taxi to Didsbury House, where we were staying. We were paying a lot above our usual budget for a trip, especially a weekend one, to stay here. But for a bit of luxury, it was definitely worth it. After a £20 taxi ride (talk about luxury), we arrived to a beautiful Victorian house, with the front window curtains drawn, so you could peak into the beautifully decorated lounge rooms. After ringing the doorbell, we were greeted by the male receptionist who after giving us the gist about our stay and carried our bags up to our room for us. We were staying in the eclectic suite; which comprised of a freestanding bathtub (roomy enough for two), a king sized bed and a nicely renovated bathroom with a huge overhead shower. It was luxury at its finest.After long hot showers in said bathroom; it was time for bed.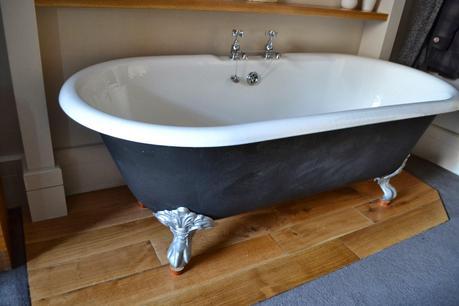 The most awesome bathtub ever
Saturday day & night
Today was the day of the Rugby League World Cup grand final between Australia and New Zealand, and J is way to excited, due to our late arrival at the hotel the night before, we had a wee sleep in. And decided to blow the budget, what the heck we won't be staying in a hotel like this for a long…long…long while, and have a cooked breakfast at the hotel. At£15.50 a breakfast, it's not cheap. That does include tea/coffee and the continental offerings though.J went for a full Irish breakfast (sausages, bacon, eggs, white pudding and black pudding) and I had the veggie breakfast (eggs, veggie sausages, baked beans and tomato). Though the breakfast was tasty, and we did enjoy a few sweet pastries). It was definitely NOT* worth that amount of money, though I don't know what I was expecting, J and I were sure we felt more spoilt when we stayed at the Polonia Palace in Warsaw last year – which was technically just a continental breakfast.

Now we were off to get the metro into the city, to go for a pint, before the big game. Not knowing exactly where to head we wandered around the city center until we arrived at the Oast House, in Spinningfields, a very nice bar/bistro that was giving off a fun vibe and that had a vast amount of ales to choose from. We could see some New Zealand fans already enjoying a pint.
After we drank our ales, we were then off, back on a metro. Entertained on the journey by some English lads, enjoying some beers and yelling at the top of their lungs, football* chants of course, though the irony wasn't lost on them, that they were on their way to a Rugby League game at Old Trafford stadium.
Reminiscent of the walk from Roma Street train station to Suncorp Stadium in Brisbane, the crowd were in good spirits. It was a bit of a 'pinch-me' moment that J and I were at the stadium home to Manchester United. We even stopped to take photos, mainly to tease a few mates back home.
Once beers were in our hands, we made our way to our seats. J and I had to sit separately, as we purchased our tickets at the last minute. Though we didn't mind in the end, especially since it seemed we were both sitting next to some guys that were backing Australia, which was great, as there weren't too many people in the crowd that seemed to be going for us.
Old Trafford was literally made up of New Zealand fans. Which made it all the more better when Australia won 34-2. Have to give it to New Zealand, it was the best haka I've ever seen a New Zealand team do.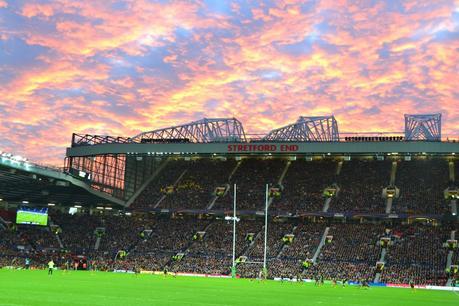 The glorious sunset at the game
After the game, we waited with every other league fan to try and get the metro back to the hotel. We waited close to an hour, and according to a few locals even during normal football matches at Old Trafford, they never put extra trams on.
After a quick change at the hotel, we headed back into town, back to the Oast House for dinner. We couldn't believe that at about 8pm everyone in Manchester city, seemed to be s**t faced, J and I thought it was a bit early, but its one of those cities in the UK where so many bucks and hen do's head to for a weekend of partying and so the Oast House was packed with people, especially inside, so J and I ended up sitting outside.
J ordered the 'half chicken' and I ordered one of their signature dishes, the 'hanging kebab' – the chicken one. Both came with seasoned chips, which were pretty damn tasty.
After ordering our food, J went to the bar to try and get drinks, and while he was doing that, our food was brought out in record speed. Poor J got cold roast chicken in the end. I have to say it wasn't a particularly nice night to be sitting outside. It wasn't a place that we would pick to eat either, mainly because on a Saturday night, it was full of drunk people, especially outside, not particularly inviting for a sit-down dinner, but we were on a bit of a budget and we looked at the menu earlier that day thinking it looked delicious. And it was.
Ah well, you live and learn.
After dinner we headed to Sinclairs Oyster Bar*, a pub that my Mancunian* work mate had told me about, and we were pleased we went, we paid only £1.75 for a pint each of Sam Smith ale. Cheapest beer I've ever had I think, a part from the 'free' kind, in the UK. Though it did shut early for a Saturday night, at 11pm, which was a shame, because we could of gone for more of those cheap beers.
After heading back to Didsbury on the metro, J and I had our own relaxing fun, we ordered ice cream and hot chocolates via room service and drew a hot bubble bath in the humungous tub. It was the most luxurious thing I have done in a long time! To make it especially cute, our hot chocolates came in a teapot.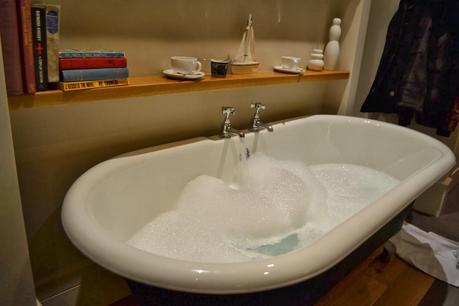 Our late night luxury
Sunday
The next day after we packed and opted out of having breakfast at the hotel, we asked the receptionist if there was anywhere nice to have breakfast in Didsbury Village and she told us to go to the Deli, which was great and much cheaper than the breakfast at the hotel, which included two coffees, a glass of juice and a smoothie.
We then hopped back on the metro and got off into the city, walking into the Northern Quarter, following a mini guide on 'Music in Manchester' that I had plucked out of the October 2012 copy of Lonely Planet Traveller, we headed to Afflecks – a four-storey warehouse (on Church Street) full of an array of different vintage boutiques and cafes. It was great for a nosey; J even got to play on a vintage Star Wars pinball machine.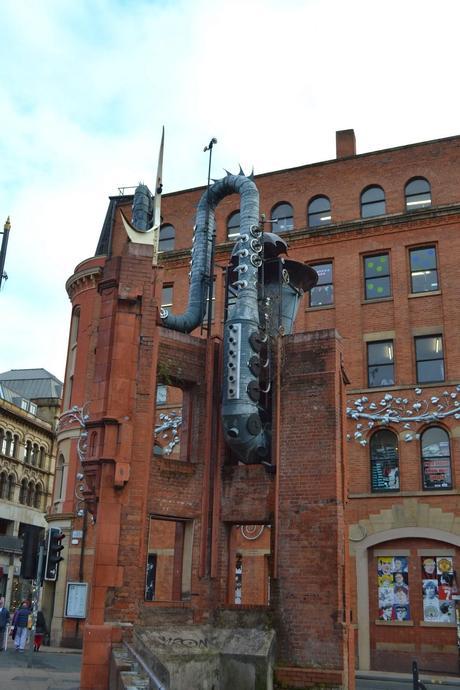 Afflecks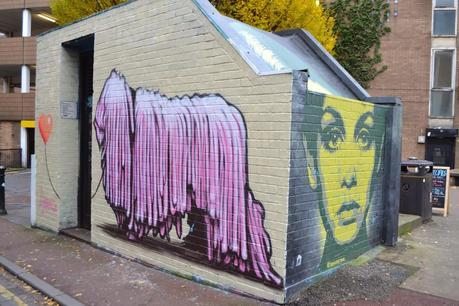 Some cool street art in the Northern Quarter
After our window-shopping we grabbed a hot chocolate and the most deliciously moist flourless chocolate cake at Bonbon Chocolate Boutique in the Northern Quarter. It was so, so, so good.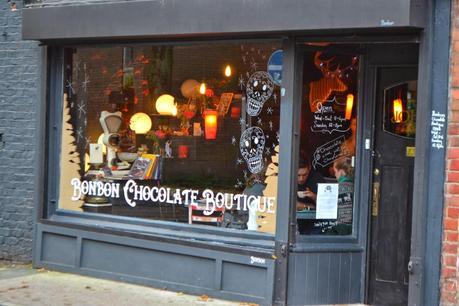 Where we drank our hot chocolates
Feeling quite content after our hit of chocolate, we wandered down towards the canals, walking past the ruins and replicas of what used to mark out the Roman city walls of the old port city towards The Wharf in Castlefield, where we grabbed a pint each at the downstairs bar and sat outside and enjoyed the sunset over the canals. It was pure bliss and a great way to end our weekend in Manchester.


*Though I'm not a spoilt princess, I have worked in hospitality for a fair amount of time, and I do expect service, especially when you pay so much a night and pay so much for a cooked breakfast. The breakfast was tasty enough, but I've had better.

*Soccer for those Australians who are reading this.

*A historic bar, and situated not far to where an IRA bombing occurred.

*It is what the people from Manchester are referred as.